With Covaxin doses not in, drive halted at 35 Delhi corporation centres | Delhi News – Times of India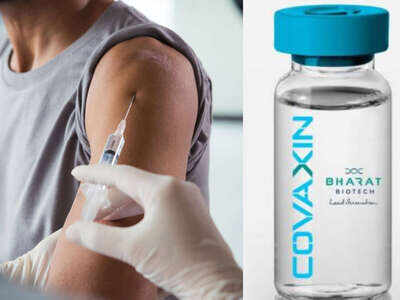 Picture used for representational purpose only
NEW DELHI: The vaccination drive at 35 centres in north Delhi, including hospitals like Hindu Rao, Mrs Girdhar Lal Maternity and Rajan Babu, has been put on hold allegedly due to lack of supply of Covaxin from Delhi government.
In areas under South Delhi Municipal Corporation (SDMC), Covaxin was available at select places for people aged above 45 who had done prior registration. There are 21 centres where people aged between 18-44 are being inoculated. "Three centres giving Covaxin were not operational on Monday. Similarly, of the 18 centres giving Covishield, 11 were not operational ," said an SDMC official.
North corporation mayor Jai Prakash said 67 vaccination centres were operational in their jurisdiction. "While 19 centres have been set up in Delhi government schools, our doctors and paramedical staff are deployed there for vaccinating those aged between 18-44. In all, 35 centres were giving Covaxin, but due to lack of supply they have been temporarily closed. They will be restarted once we get fresh supplies," he added.
SDMC leader of the House Narendra Chawla said that at Tilak Nagar Hospital, people who had booked appointments returned without getting shots as vaccines were not available. "While the Centre says there is no shortage, Delhi government is talking about a crisis. The shortage of supply from the state government will automatically delay the entire vaccination process," he added.
In areas under East Delhi Municipal Corporation, there are 14 vaccination centres for people in the age group of 18-44 years. Of these, 13 centres are giving Covishield and one Covaxin. "No Covaxin is available at most of the centres. For those aged above 45, six centres are giving Covaxin. Of them, two were not operational at Swami Dayanand and Chandiwala hospitals. However, the remaining 10 where Covishield was being given were operational," said EDMC mayor Nirmal Jain.
FacebookTwitterLinkedinEMail