Vasai: 70-year-old man sits in flooded water to protest against waterlogging in his ground-floor flat | Mumbai News – Times of India

MUMBAI: Last year he got down to cleaning a choked gutter flooding his locality and home in Vasai. This time 70-year-old Ashok Talajiya sat in the flooded waters of his Ashwin Nagar complex for around an hour and a half after rainwater entered his ground floor house following rains in the wee hours of Sunday.
On Monday, Talajiya, who has not taken his COVID-19 vaccination dose sat in the rainwater from 2.30 pm to 4 pm. "I was drenched and felt shivery but protesting was necessary," said Talajiya, a mobile repairer, who lives with his wife, son, and daughter in a one-bedroom flat since 2013.
Last yr he cleaned the choked nullah as rain water entered his flat in Vasai. On Monday Ashok Talajiya (70) sat and… https://t.co/axUHaHtuem

— Sandhya Nair (@sandhyanairTOI) 1626769772000
In 2017, following heavy rains in the Vasai-Virar region, his ground floor flat got flooded. Talajiya who suffered losses of furniture and belongings worth Rs 1.50 lakhs, thought that the excessive rainfall had caused the water to enter his flat then.
The story repeated in 2018, recalled Talajiya. "The toilet gets flooded first and the sewage water spreads into the entire house.". While other ground floor flats in the 'D' wing also get flooded, Talajiya is the worst hit as his house is located in a corner, closer to the nullah. Talajiya said that as the Vasai Virar Municipal Corporation (VVMC) does not clean the choked nullah, 30 minutes of rain floods the road and housing society.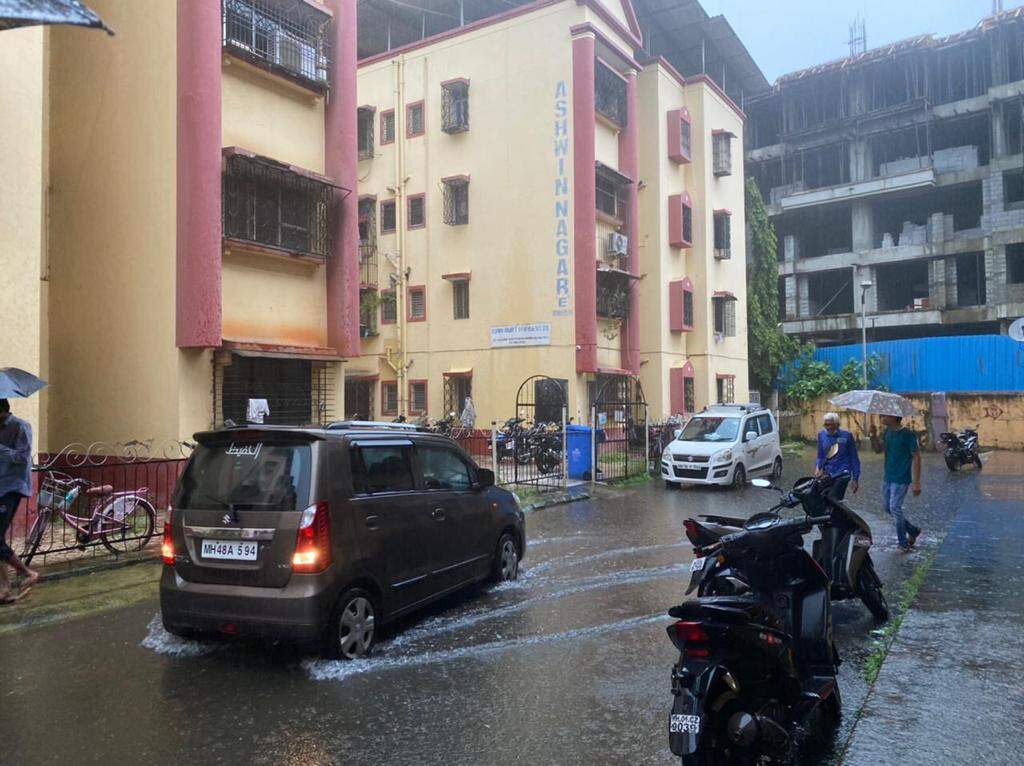 Ashwin Nagar society. Photo: Hanif Patel
Talajiya sat in the flooded water with placards, informing his reasons for the protest, hanging around his neck. Vehicles passed by the flooded waters but it did not deter Talajiya, who went home, had a bath, ate his lunch, and got down to doing his daily routine.
On July 5, 2020, as water started entering his house, Talajiya took upon himself the task of cleaning the nullah using his bare hands. Videos of him cleaning the nullah had gone viral. Talajiya said that after the video went viral civic officers landed up at his home. "But the story repeats every year," said Talajiya who 'invested' in paver blocks to increase the height of his bed, refrigerator, cupboard and other furniture. "Each paver block cost me Rs 30 but it is an investment."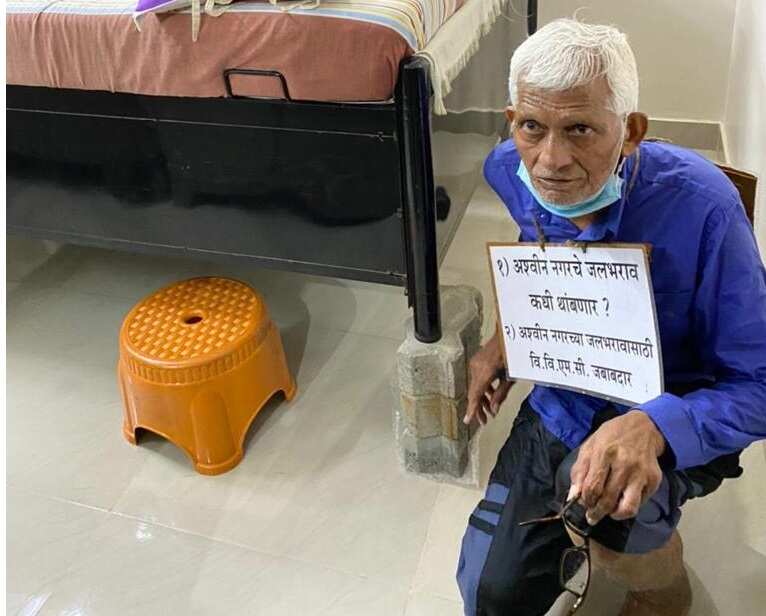 Ashok Talajiya shows paver blocks used to increase the height of his bed, refrigerator, cupboard. Photo: Hanif Patel
On Sunday night, when the flooded water entering his house touched the paver blocks, he panicked. "I cannot keep incurring losses every monsoon," said Talajiya, who personally submitted complaint letters to the VVMC on March 30, 2021 and April 28, 2021.
Talajiya said that the municipality needs to clean the nullah before the monsoon so that the locality is not flooded. The complex comprises 15 buildings. He said that he took it upon himself to protest as other building residents, including his own children are busy with work.