Telangana's current Covid infection ratio per 100 cases still high | Hyderabad News – Times of India
HYDERABAD:
Telangana
's daily active caseload may be dipping but the ongoing lockdown hasn't been able to bring down the infection ratio of around eight current infections per 100 Covid-19 positive cases. Telangana's active cases were around 39,000 as on Monday and experts said that the current infection ratio should have lower, around 5 active cases per 100 infections.
"The infected ratio will change every 10 to 15 days depending on the number of cases reported and recoveries, but for any region or state the ideal would be if this number is below 5 or around five," former Centre for Cellular & Molecular Biology (CCMB) director Rakesh Mishra said.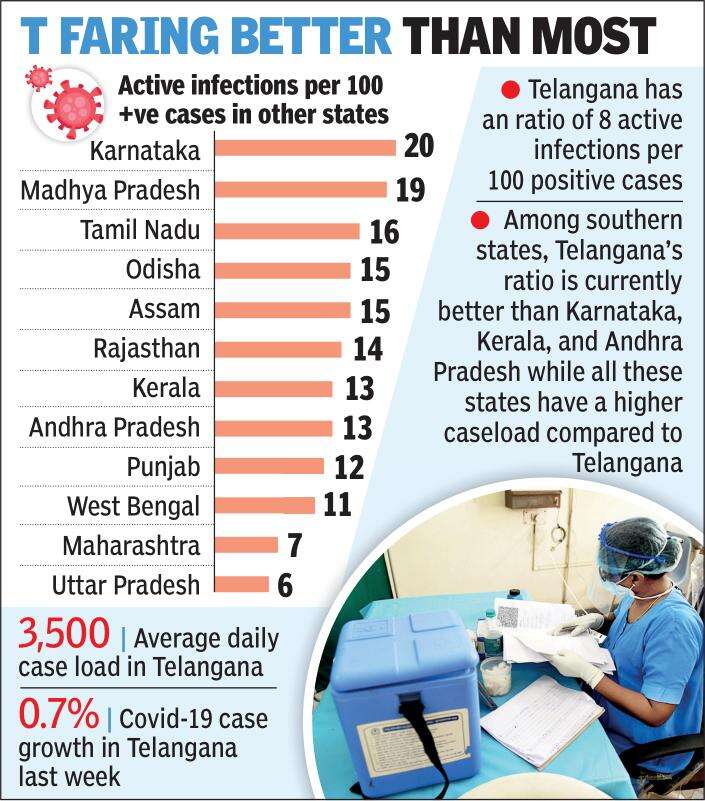 On the raging second wave of coronavirus sweeping across the country, Mishra said whatever may be the current numbers, the situation will be more stable in a month, and guard should be stronger from authorities. "The recoveries are far ahead of the number of infected people for a long time, but the numbers of currently infected people will keep on coming," he added.
Telangana has been reporting an average of 3,500 daily caseload and the average growth rate last week stood at 0.7 per cent. The number of currently infected people per 100 cases stands at 20 for Karnataka, 13 for Kerala, 13 for Andhra Pradesh and 16 for Tamil Nadu. All these states have a higher active caseload than Telangana.
The state health department has asked authorities to set up more isolation centres across the state, especially in villages and towns when the active cases are high. "We will be doing another round of fever survey in the state to find out more symptomatic people and this will improve the situation over a period," said a senior official from the state health department.