Telangana: Thousands booked in districts for violating lockdown | Hyderabad News – Times of India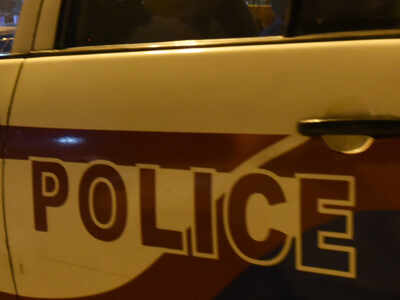 Representative image
HYDERABAD: Police have registered cases against thousands of people across the state for violation of lockdown guidelines.
For instance, in a single day, Suryapet police booked cases against 949 people for violating the lockdown and seized 190 vehicles on May 23. In some districts like Medak and Nalgonda, cops used drones to enforce the lockdown.
Since lockdown was imposed in the state on May 12 to prevent spread of Covid-19, the Jagtial police have registered cases against 4,231 people for various violations. Another 3,965 people were booked for not wearing masks. A total of 919 vehicles — 751 two-wheelers, 54 three-wheelers and 114 four-wheelers — were seized. Karimnagar range IG Pramod Kumar, district SP Sindhu Sharma and DSP Venkataramana themselves were on the field to enforce the lockdown, particularly at checkposts.
At the inter-state border at Vadapalli in Damarcharla mandal in Nalgonda district, police did not permit anyone coming from Andhra Pradesh without an e-pass even during the lockdown relaxation time between 6 am and 10 am.
Nalgonda DIG and SP AV Ranganath on Monday urged the people of Andhra Pradesh not to put themselves to hardship by reaching the border with the hope that they would be allowed into Telangana.
Police also booked a case against a chicken shop owner who was moving around in his car with a 'press' sticker on his car. When he was asked to produce his identity card, the man could not do so and a case was booked against him.
Siddipet district SP Joel Davis said people wre making unnecessary visits to their relatives or coming out on some work which was not urgent.
"Despite the Covid-19 situation, a large number of people were seen in front of chicken and mutton shops on Sunday even after 9.30 am. Lockdown is for the benefit of the people and everyone should realise it," he added.
FacebookTwitterLinkedinEMail