Telangana draws up battle plan for third Covid-19 wave | Hyderabad News – Times of India
HYDERABAD: With experts hinting at the possibility of a third Covid-19 wave hitting the nation by December 2021, the
Telangana
health department has started drafting a plan to tackle the virus. According to sources, the government is focusing on two primary areas — beds and oxygen supply.
Though there is still no substantial data about children being most affected in the third wave, the state has instructed all government hospitals to ramp up their paediatric wards with more beds. The total bed capacity too is expected to be increased with Hyderabad set to get 300 additional beds. During the first wave, the total bed capacity across the government sector stood at 18,000 which was increased to 53,000 during the second wave.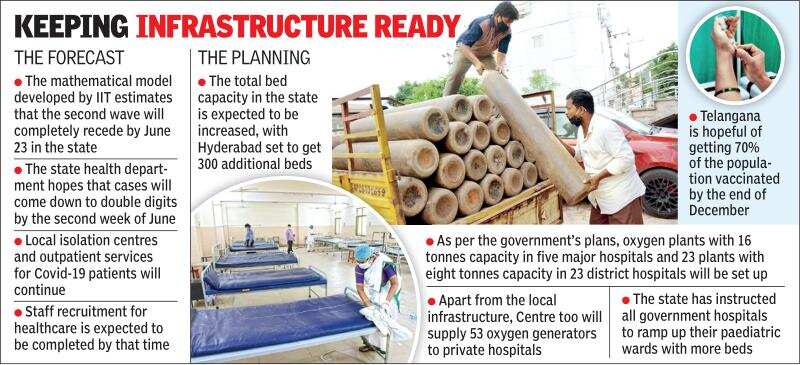 "Going by the trend of the virus, experts feel that there is a possibility of a third wave…they say the current wave will come under control by the end of June," said an official adding that a decision on drugs — ensuring its availability — will, however, be taken on depending on the nature of the wave. "During the second wave we realised that the infection type was unexpected and many treatments had to be changed. So, we have to take a decision on drugs based on the infection spread," the official added.
Further, with transporting oxygen from distant states like West Bengal and Odisha becoming a Herculean task, a detailed oxygen supply plan is also being chalked out. According to it, oxygen plants with 16 tonnes capacity in five major hospitals and 23 plants with eight tonnes capacity in 23 district hospitals will be set up. Apart from this, the Centre too will supply 53 oxygen generators to private hospitals.
"Considering all this, we are hoping that there will be no shortage of oxygen in about 100 hospitals," a government source said. Also on the state's agenda is to continue the fever survey till the second way completely recedes and tracking symptomatic people. On the vaccination front, Telangana is hopeful of getting 70% of the population vaccinated by the end of December with an expected supply of one crore doses over and above the free doses given by Centre.
The jab notwithstanding, experts suggest that people continue to follow all Covid-19 protocols. "If 70% of the population gets vaccinated, the infection can be brought under control. But it is extremely important that in between the second wave and the possible third wave, people follow a restricted lifestyle so that the virus does not mutate," said former director of the Centre for Cellular and Molecular Biology (CCMB), Rakesh Mishra.