Telangana cops turn heat on lockdown violators | Hyderabad News – Times of India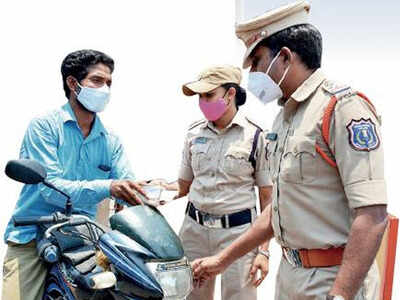 People roaming the streets without e-passes and proper reason were taken to Hyderabad Public School grounds.
HYDERABAD: As Telangana grapples with the fast-spreading Covid-19 virus, police authorities on Sunday intensified vigil in the bordering districts, while in the city, food deliverymen without identity cards and people roaming the streets violating lockdown rules were hauled up.
At the borders, Telangana police allow vehicles only through Garikapadu check-post near Kodad by closing other routes, including Ramapuram check post near Suryapet, Mathampalli, and Pulichintala. Scores of vehicles were stranded on Vijayawada-Hyderabad highway as Telangana police refused to allow vehicles into the state without e-pass.
"Until yesterday during lockdown relaxation time, vehicles without e-passes were allowed from Andhra Pradesh. From today, we have started allowing only those vehicles with e-passes to enter Telangana even during lockdown relaxation time. We had to turn back several vehicles which were carrying e-passes at the interstate border check points," Suryapet superintendent R Bhaskar said.
In Hyderabad, even doctors, medical staff and pharmacists were stopped by the cops, while people roaming the streets without e-passes and proper reason were taken to Hyderabad Public School grounds for verification and released after issuing them challans.
Cops verified personal IDs and enquired about the purpose of stepping out during lockdown hours, while vehicles of those found roaming around without any purpose were seized and violators were warned before allowing them to go," said a senior police officer.
Food delivery platforms such as Swiggy and Zomato resumed their services on Sunday, albeit with limited restaurants even as the traffic cops continued their strict vigil on lockdown violations across the city. Until Sunday morning, most of the food aggregators were not operational due to on-ground challenges, leaving many people dependent on them in a fix.
"Since I don't know how to cook, I completely rely on the food aggregators during the lockdown. I had a cook before the lockdown who too refused to come fearing police action. How does the government expect people like us to survive," questioned Kartik Varma, a resident of Kondapur.
The delivery executives got a rude shock as the apps showed a penalty amount to resume work. Following an uproar on social media, Zomato responded stating – "These are automated triggers.
Please be assured our teams will be reversing all cancellation and rejection penalties incurred due to operational issues onground."
The delivery executives were back on duty amid heavy checks on several arterial roads and junctions of the city. Many were stopped even on Sunday and were allowed to go after displaying their ID cards and food delivery orders.
During the day, DGP M Mahendar Reddy held a review meet with three commissioners of police over the disruption of essential services, while tightening lockdown. "(Have) directed to ensure a seamless supply ahead, while executing strict lockdown," Reddy mentioned on his Twitter handle.
FacebookTwitterLinkedinEMail