Tamil Nadu CM urges Karnataka's Yediyurappa to drop Mekedatu project | Chennai News – Times of India

CHENNAI: Responding to Karnataka chief minister B S Yediyurappa's letter urging not to oppose the Mekedatu dam project, Tamil Nadu chief minister M K Stalin reiterated that the project was against the interests of Tamil Nadu's farmers and requested him not to pursue the project.
Stalin's letter on Sunday was also silent on the request by Yeddiyurappa for a bilateral talk on the issue, in a sign that TN was turning down the proposal for talks.
The view that Mekedatu dam will not affect the interests of Tamil Nadu cannot be agreed upon as it would hinder the flow of water from catchments areas below Kabini and Krishnarajasagar da, Stalin told Yeddiyurappa.
He said the final order of the Cauvery Water Disputes Tribunal later modified by the supreme court, clearly identified the three components contributing the annual quantum of water to be delivered to TN. "The proposed Mekedatu dam would impound and divert the first component of uncontrolled flows due to Tamil Nadu, which is from the uncontrolled catchment areas downstream Kabini reservoir and catchment areas below Krishnarajasahar dam and uncontrolled flows from Simsha, Arkavatahy and Suvernavathy sub – basins,'' Stalin said.
Stalin noted that constructing a major reservoir at Mekedatu which is too far away from Bengaluru to meet the drinking water requirements of the metropolis does not sound valid.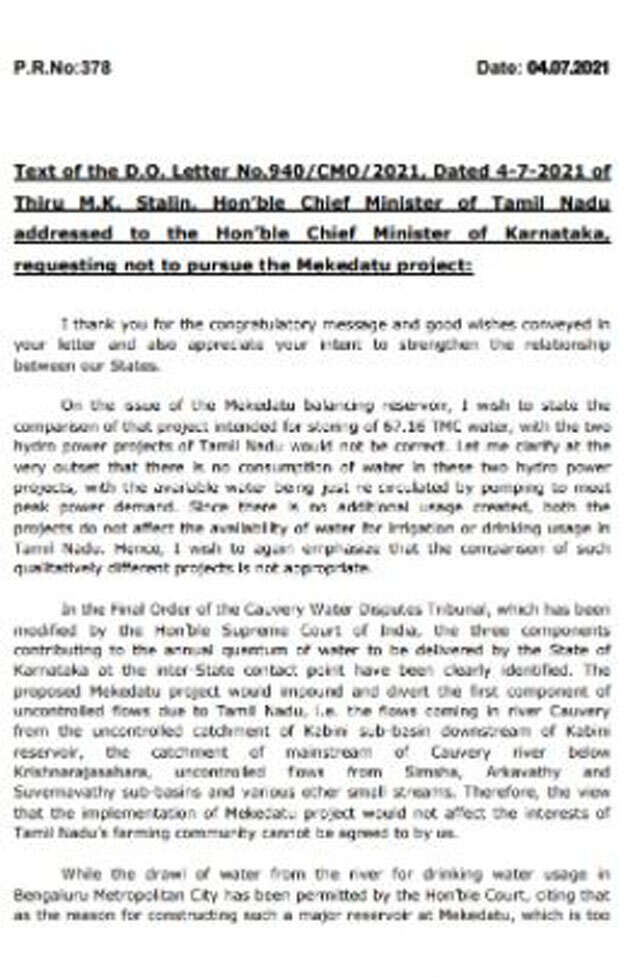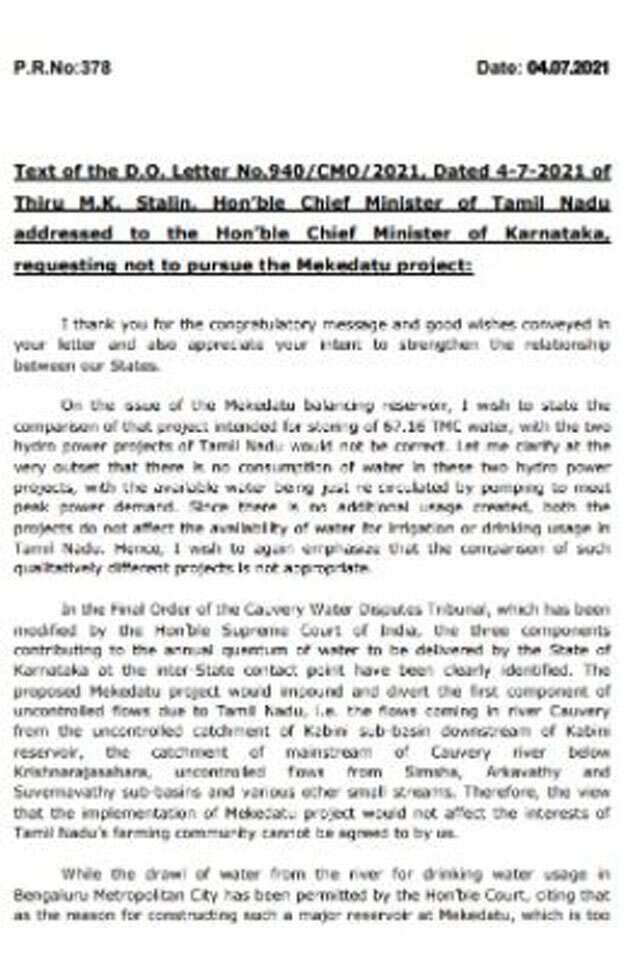 Stalin further pointed out that the justification by Karnataka on the need for a reservoir with storage capacity of 67.18 tmc for meeting 4.75 tmc requirement of drinking water is not at all acceptable, especially when Karnataka already has adequate infrastructure to draw water for drinking purposes of Bengaluru. "This would definitely jeopardize the availability of water to Tamil Nadu,'' he said.
He said the comparison of Mekedatu project with Sillahalla and Kundah dams was not correct. Yeddiyurappa had said in his letter that TN had not obtained consent from Karnataka for the two projects to buttress his point that since TN was going ahead with such projects it should not object to Karnataka taking up projects. But Stalin said the latter were hydro power projects where water was recirculated by pumping to meet peak power demand. There was no consumption of water and hence these projects would not affect availability for irrigation or drinking purposes. Whereas Mekedatu, intended for storing 67.16 tmc, would affect quantum of water supplied to Tamil Nadu. "I wish to emphasise that the comparison of two such qualitatively different projects was not appropriate," Stalin said.
"I request you to consider the above facts and the sensitivity of these issues and strongly urge you not to pursue the Mekedatu project,'' Stalin said in the letter.