Republic TV's Arnab Goswami, COO & CFO named in 3rd TRP chargesheet | Mumbai News – Times of India
MUMBAI: The city crime branch probing the Television Rating Points (TRP) manipulation scam has named Republic TV's Arnab Goswami, four employees of the channel and two others in its second supplementary chargesheet submitted in the 37th metropolitan magistrate court on Tuesday.
The police have named COO of ARG Outlier (that runs Republic TV), Priya Mukherjee, chief financial officer, Shiva Sundaram, and two other officials, Shivendra Mundherkar and Ranjit Walter, along with two directors of Maha Movies, Amit Dave and Sanjay Verma, in the chargesheet.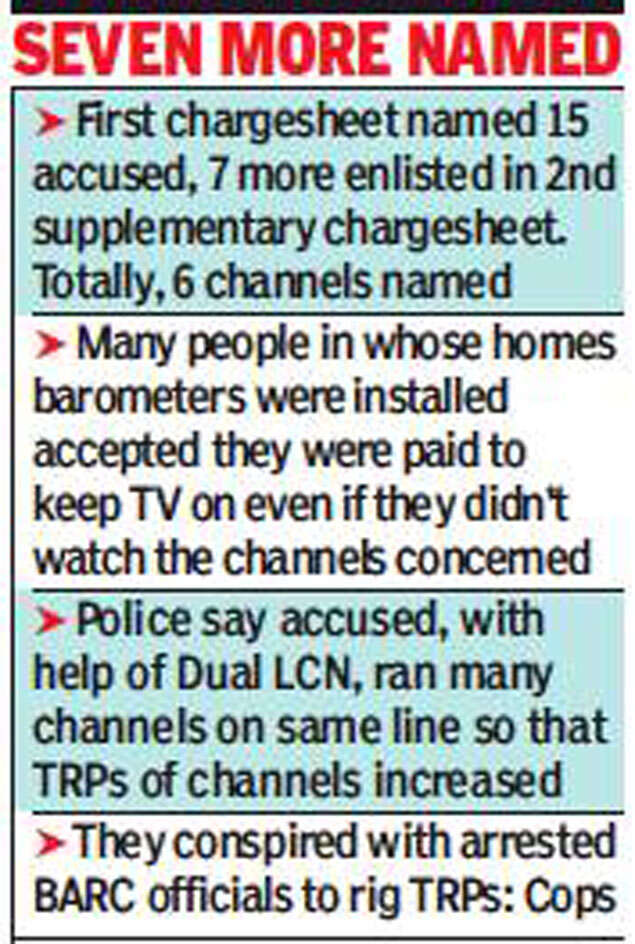 The police said their investigation has shown that TRPs were manipulated in three ways. "Inducing panel homes where bar-o-meters are installed by the way of paying money to watch certain TV Channels for a specific time. Dual LCN – Placing one TV Channel on two different frequencies by the Multi System Operators/Cable Operators for one TV channel and by Manipulating TV Channel viewership data (Metarule) received at BARC." Further they conspired with the arrested BARC officials to rig the TRPs of their channel," the crime branch press release stated.
While the first chargsheet had mentioned 15 accused, the second supplementary chargesheet, over 1,912 pages long, has enlisted seven more persons as accused. This case was probed by the crime intelligence unit (CIU) headed by assistant police inspector Sachin Waze and Riyazuddin Kazi, both arrested in the planting of gelatin sticks in a vehicle near industrialist Mukesh Ambani's residence and the subsequent murder of vehicle owner Mansukh Hiran.
The case was registered on October 6 last year after the Broadcast Audience Research Council (BARC) lodged a complaint that certain TV channels were rigging TRPs through illegal means. BARC has installed 2,000 barometers in Mumbai to monitor TRPs, which are strictly confidential. BARC, which releases weekly rating points for TV channels in India, had given the contract to Hansa Research, which filed the complaint against some former employees who misused the data on households where TRP monitoring systems are installed.
Police during the probe had said that when Goswami launched Republic TV in 2017, he sought former BARC CEO Partho Dasgupta's help in manipulating TRPs to take the channel to the No. 1 slot. Both have known each other since 2013. Police said they had also stumbled upon certain email exchanges and WhatsApp chats between Dasgupta and Republic channel's chief operating officer (COO), Romit Ramgarhia, discussing TRP manipulation. There are also WhatsApp chats between Goswami and Dasgupta discussing TRP manipulation, police had said.
The crime branch had arrested 15 people, including employees of Hansa, Republic TV, Fakt Marathi, Box Cinema, News Nation, Maha Movies and Wow music channels for inflating viewership figures, a key parameter that media buying houses consider while placing advertisements. The channels are accused of paying money to households (in those houses where barometers are installed) for keeping channels on.
Officials said the arrests of Waze and Kazi have not impacted the investigation. The case was subsequently probed by assistant commissioner of police Shashank Sandbhor. Earlier, police had claimed TRP manipulation has caused huge losses to the industry and there was a possibility of involvement of advertisers and investors in the scam. However, the chargesheet has not mentioned these aspects.