Petrol price in Mumbai: Petrol tops Rs 100 in Thane, Navi Mumbai, 6p shy in Mumbai | Mumbai News – Times of India
MUMBAI/NEW DELHI: Will India's financial capital, Mumbai, become the first metropolis to see regular petrol sell for Rs 100 a litre? Looks like it, if the trend of retailers revising pump prices by tens of paise every second or third day is anything to go by.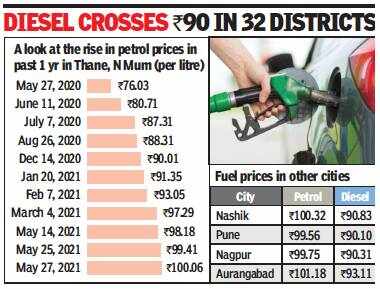 After Thursday's hike, the 14th this month, petrol shot past Rs 100 mark in Thane and Navi Mumbai to a record Rs 100.06, and it was just 6 paise shy of Rs 100 in Mumbai. It will take just one more hike to hit a century in the city. The cumulative hike over the past one year is Rs 24 for a litre of petrol in the city.
While Mumbaikars are bracing for the impact, Jaipur has become the second state capital after Bhopal where petrol price has topped Rs 100. Rajasthan has the highest VAT on fuel, followed by MP and Maharashtra. This explains the surge in these states, although petrol is selling well above Rs 90 per litre in all other states. Rajasthan had earned the dubious distinction of seeing petrol price cross Rs 100 for the first time in the country at Sri Ganganagar on February 17, followed by Bhopal in Madhya Pradesh.
The difference in the cost of transporting fuel from the source—refinery or supply depots—to pumps in a district causes prices to vary within a state. Octroi or entry tax in some cities is another reason for such variation.
Since January, petrol price has risen about 11%, or Rs 9.60 a litre in Mumbai and Rs 9.97 in Delhi. Diesel has become costlier by roughly 14%, or Rs 11.36 a litre in Mumbai and Rs 10.74 in Delhi as retailers passed on the impact of rising international crude price and a weakening rupee.
The diesel price in Mumbai was at a new high price of Rs 91.87 per litre at pumps on Thursday while in Thane and Navi Mumbai, the rate had escalated to Rs 91.99 per litre.
"Unless the government intervenes and partially rolls back taxes, VAT and excise duty on fuel, there is little hope for any relief in fuel prices," said experts from the oil industry, adding, "These taxes and VAT contribute to 66% of what we pay for the fuel as on date."
Across Maharashtra, highest price of petrol was a record Rs 102.30 in Parbhani while 22 other districts including Nashik had petrol price over Rs 100 a litre.
Petrol dealers association president M Venkat Rao said there was no significant drop in customers for petrol across the Mumbai Metropolitan Region, but there was around 15% drop of those coming to refill diesel at some of the pumps.
Ravi Shinde, a petrol pump owner from Amar Mahal area, said, "Despite unprecedented increase in price of petrol and diesel, the pump owners across MMR have not received a stipulated increase in dealer margin since the last four years. Many petrol pumps are finding it difficult to purchase fuel for the next day."
In the wake of increasing petrol and diesel costs, a few citizens have opted to go for new electric vehicles—SUVs, cars or scooters—whose running and maintenance costs are cheaper. There are few takers for electric cars, though, as the city still lacks a robust e-charging infrastructure, said a transport official.
The price of petrol in 23 districts across Maharashtra is over Rs 100 a litre. They include Alibag Rs 100.05, Amravati Rs 101.37, Aurangabad Rs 101.18, Beed Rs 100.93, Bhandara Rs 100.33, Buldhana Rs 101.50, Gadchiroli Rs 100.54, Gondia Rs 101.17, Hingoli Rs 100.88, Jalgaon Rs 101.09, Jalna Rs 101.04, Kolhapur Rs 100.08, Latur Rs 100.87, Nanded Rs 102.10, Nandurbar Rs 100.65, Nashik Rs 100.32, Osmanabad Rs 100.40, Parbhani (highest) Rs 102.30, Ratnagiri Rs 101.29, Satara Rs 100.47,Thane Rs 100.06, Wardha Rs 100.23 and Washim Rs 100.47.
When it comes to diesel, Nashik, Pune, Nagpur and 29 other districts now have diesel over the alarming level of Rs 90 a litre and this has upset transporters. "They are fuming as they fear that diesel going over Rs 90 will have an impact on the economy, and will lead to rise in costs of transportation and prices of essential goods like vegetables, fruits, etc," said Bal Malkit Singh of All India Motor Transport Congress.
Pump prices had remained static between February 28 and May 3 when the retailers paused revisions during electioneering in five states, even though crude hit $70/barrel during this period. Crude is currently hovering around $68, boosted by demand from the US, western Europe and China.
The high central taxes and VAT are amplifying the impact of elevated crude. The Centre raised excise duty by Rs 13 on petrol and Rs 16 on diesel between March and May last year when oil prices collapsed due to the pandemic. The two hikes raised excise duty 65% on petrol from Rs 19.98 to Rs 32.98 a litre and 79% on diesel from Rs 15.83 to Rs 28.35. VAT adds to the pinch since it is levied as a percentage and rises each time the base cost goes up.
At a time when the state government and the Centre are blaming one another for rising fuel rates, the petrol rate in Thane and Navi Mumbai crossed the Rs 100 mark on Thursday morning and is now retailing at a record Rs 100.06 per litre.
The petrol price in Mumbai was just 6 paise shy of Rs 100 a litre and it will take just one more hike to hit a century. It retailed at Rs 99.94 a litre on Thursday, leaving scores of motorists fuming as the cumulative hike over the past one year is Rs 24 for a litre of petrol.