Mumbai shops can now open till 10pm as Maharashtra eases norms for 25 districts | Mumbai News – Times of India
MUMBAI: With Covid cases reducing, the Maharashtra government eased curbs on Monday for the bulk of the state except 11 districts including Pune. In a boost for the retail sector, the BMC has allowed shops in Mumbai barring those inside malls to stay open on all days till 10 pm. Medical shops can remain open for 24 hours through the week.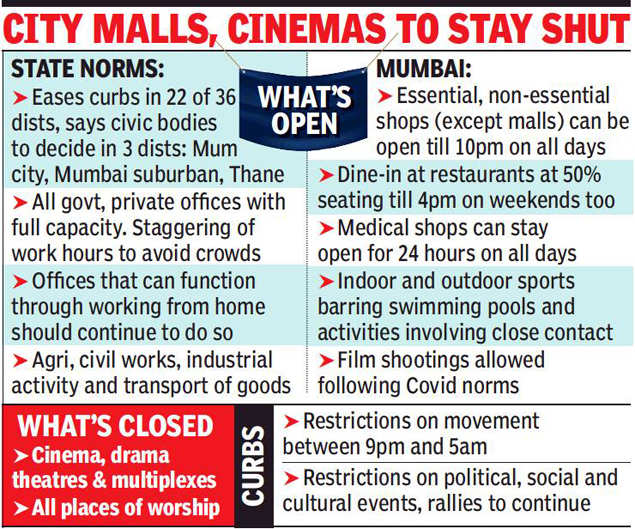 However, there is no major relief for hotels and restaurants in the city except that they can now be open till 4 pm on all days for dining in, including weekends. So far, they were allowed to raise their shutters only on weekdays.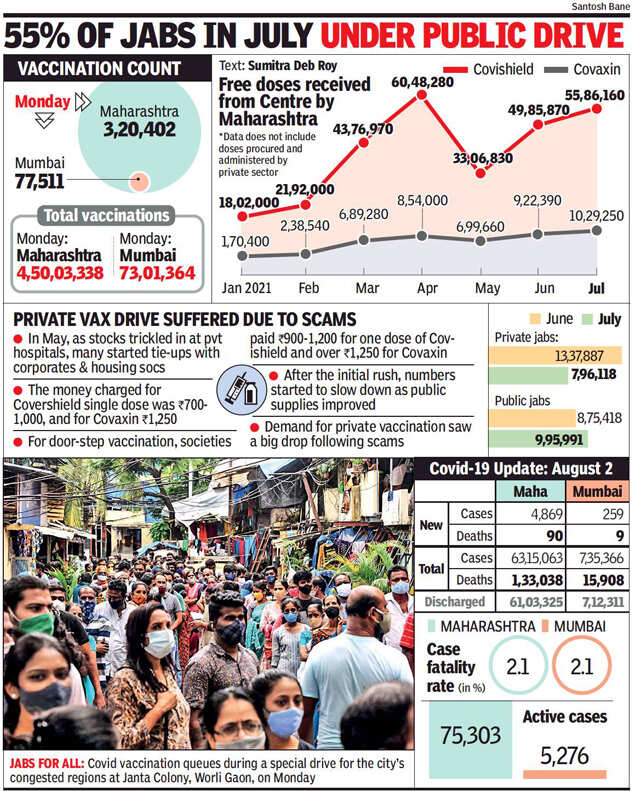 Movie halls and multiplexes have not been granted any concessions, nor have places of worship. However, the BMC has allowed indoor and outdoor sports barring the operation of swimming pools and other sporting activities involving close contact. It has also allowed film shootings in Mumbai in compliance with Covid norms and within prescribed timings.
Earlier, a few members of the Maharashtra cabinet including deputy chief minister Ajit Pawar and public health minister Rajesh Tope had indicated that government would ease curbs to a greater degree for restaurants, malls and multiplexes, but the final order held no such prospect.
The hotel sector is upset with the decision. "We are being singled out and a vicious campaign is being run against us. We find no logic in not extending restaurant timings till 11pm at least," said Shivanand Shetty, president of the Indian Hotel and Restaurant Association. Retailers were relieved. "We will ensure our staff is fully vaccinated and are hopeful that this decision in taken in Thane as well," said Viren Shah from the Federation of Retail Traders Welfare Association.
In its order, the state government relaxed curbs in 22 of the 36 districts including Nagpur, Aurangabad and Nasik while it allowed civic bodies to decide on lifting restrictions in three other districts: Mumbai city, Mumbai suburban and Thane.
The relaxations for 22 districts include increased timings for shops, malls, gymnasiums and parlours. Both government and private offices have been allowed to function at full capacity. Restaurants have been allowed to function with 50% capacity till 4 pm on weekdays.
However, cinema theatres, drama theatres and multiplexes (including those inside malls) have to remain closed. Places of worship too will continue to remain out of bounds. And restrictions will continue on birthday celebrations, political social and cultural events, elections, election campaigning, rallies and protest marches.
BMC commissioner Iqbal Chahal's directive said Mumbai has a positivity rate of 1.76% and oxygen bed occupancy of 18.97%. This puts the city in the lowest range among districts classified on the basis of the two parameters. The decision on lifting restrictions in Thane district, which includes Navi Mumbai and Kalyan Dombivali, will be taken on Tuesday.
The state has not relaxed restrictions in 11 districts reporting a relatively higher positivity rate. These include Kolhapur, Sangli, Satara, Pune, Ratnagiri, Sindhudurg, Solapur, Ahmednagar, Beed, Raigad and Palghar. The local disaster management authorities have been allowed to impose "effective restrictions" in Sindhudurg, Satara and Ahmednagar since the positivity rate is high and there is a greater emergence of fresh cases.
(with inputs from Manoj Badgeri in Thane)