Mumbai: Mithibai's BMS most sought-after among degree college aspirants | Mumbai News – Times of India
MUMBAI: Mithibai College's BMS programme has received the largest count of applications—6,700—from degree college aspirants for admission to the 2021-22 batch. Jai Hind College is second with 5,513 candidates applying for 120 BMS seats and N M College a close third with 5,264 aspirants.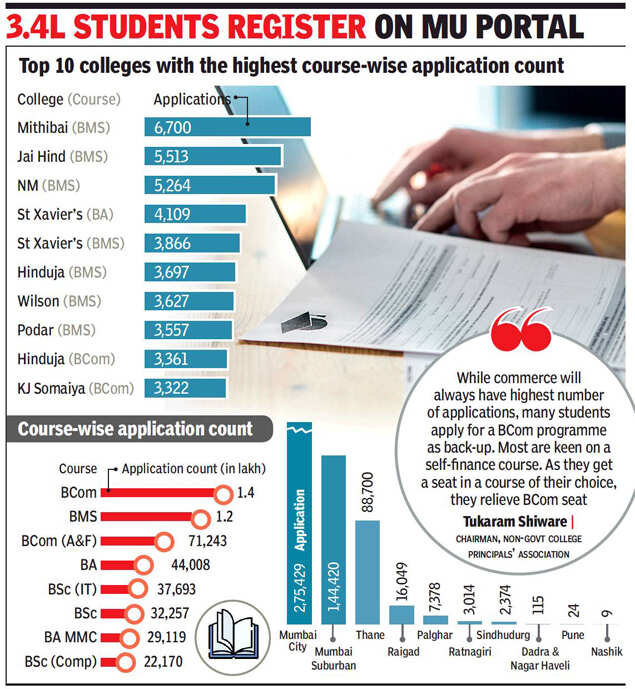 Competition among the top city colleges is fierce. Famous names, big brands and now autonomy that come attached seem to be the flavour of the admission season. Among courses, after the BCom programme, BMS (bachelor of management studies) had the largest count of applicants and BCom (accounting and finance) is a distant third.
"The BMS programme has evolved and become sharper. We have senior industry captains coming to take lectures. There are a plethora of activities embedded into the programme and an entrepreneurship cell and a start-up accelerator to encourage students to launch their ventures from college," said Jai Hind College principal Ashok Wadia. Student selection for self-financing courses will be based on the 60:40 model, with 60% weightage being given to the college entrance test and 40% for class XII scores.
For the first-year programme in arts, St Xavier's College saw the maximum applications—4,109 for 450 seats, with about 360-odd being for in-house candidates, who must be given the first choice. An autonomous college, St Xavier's also conducted entrance tests for its unaided programmes. A total of 3,866 applications have poured in for 60 BMS seats.
"We saw thousands of students taking our tests from across the country. Apart from our BA programme, there is much clamour for our BMS and BMM programmes, apart from courses like microbiology under our science offerings," said vice-principal Hasnain Naqvi. Starting a second division for BMM is on the cards. Here too, 60:40 will be the selection criteria for self-financing programmes, like at Jai Hind College.
On the Mumbai University portal, 3.4 lakh students have registered to take degree college admissions. As varsity officials explained, one candidate could apply for one more than course, or to multiple colleges and hence the application count stands at 5.4 lakh. In-house students will be first admitted to the traditional programmes.
"While commerce will alw-ays have highest number of applications, many students apply for a BCom programme as back -up. Most are keen on joining a self-finance course. So, as they get a seat in a course of their ch-oice, they relieve the BCom seat," said Tukaram Shiware, ch-airman, Non-Government College Principals' Association.
In science, Ruia College has the maximum applications for BSc (computer science)—2,059 for 60 seats. "Our college is kn-own for its strong research culture and the quality of teaching and lab experience that students get is unparallelled. We also have a lot of applications for basic sciences as we have an MSc programme in all sciences, as also PhD," said in-charge principal Anushree Lokur.
But most colleges had a lower application count which shows that while students had filled MU forms, they had not submitted college-level forms.