Mumbai: Four children with mucormycosis infection and other ailments lose an eye | Mumbai News – Times of India

MUMBAI: At least four children have lost an eye due to mucormycosis at city hospitals in the past seven months. Doctors said the cases were rare and mainly among immune-compromised children. But none of them had a history of Covid-19 infection; two had Covid-19 antibodies, suggestive of a recent exposure to coronavirus.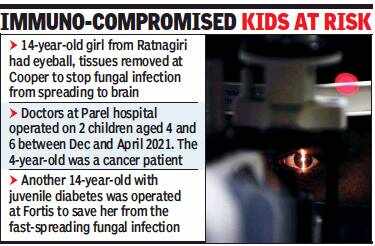 In June, a 14-year-old girl from Ratnagiri underwent an orbital exenteration (removal of eyeball, tissues) at Cooper Hospital to stop the fungal infection from spreading to the brain. In February, Fortis Hospital doctors performed the same debilitating surgery on a 14-year-old with a history of juvenile diabetes to save her from the fast-spreading infection. At Parel's KB Haji Bachooali Charitable Hospital two children aged 4 and 6 years were operated between December and April this year. The 4-year-old was a cancer patient.
Despite these detections, mucormycosis in children is rare and hardly ever seen in healthy children, said paediatrician Dr Jesal Sheth who consults at Fortis. The 14-year-old, who had uncontrolled sugar, had developed blackening of an eye. "Even in pre-Covid times, children with juvenile diabetes were susceptible to these infections," she added. The girl had antibodies but no history of Covid.
The Ratnagiri girl's case has intrigued Cooper doctors as she neither has blood sugar nor a history of Covid infection in the family or of steroid use. A class VIII student, she had a swelling in the eye. As symptoms progressed, the family came to Mumbai. This girl too has Covid antibodies but no Covid.
"Our understanding is mucormycosis is only seen in children with underlying health problems, but we haven't found any in her till now. She also didn't suffer from serious Covid that would make her susceptible," said Dr Charuta Mandke, in-charge of ophthalmology at Cooper. The hospital plans to send her samples for immunological tests to probe for undetected underlying conditions.
Both cases treated at Haji Bachooali Hospital were from outside Maharashtra, said oculoplastic surgeon Dr Prithesh Shetty. He said they had lost vision by the time they came. Both these children didn't have diabetes, although the 4-year-old had leukaemia.
For paediatric cases, correct diagnosis of mucormycosis is crucial since it's not commonly seen in them, said oculoplastic surgeon Dr Akshay Nair, who consults with Sion Hospital. "We did have children who presented with symptoms looking like mucormycosis, but they turned out to be bacterial cellulitis. Nationally, too few children have got it," he added..