Most states want to hold Class 12 exams | India News – Times of India
NEW DELHI: The Centre said it will consider suggestions of states before taking a decision on the Class 12 board exams even as a discussion convened by the education ministry on Sunday saw most states favouring holding of examinations even if in a truncated form.
Many states said they would study proposals put forward by the CBSE, which include a reduced number of papers with shortened exam time duration. Some states like Maharashtra said "non-examination route" be actively examined while Delhi and Kerala governments suggested vaccinating all Class 12 students before exams. West Bengal, which has not cancelled any of its two board exams, is to take a decision next week.
The CBSE presented two options. The first was that exams start from August 1, be conducted in 19 subjects and assessment of minor subjects be done on the basis of performance in the exams taken.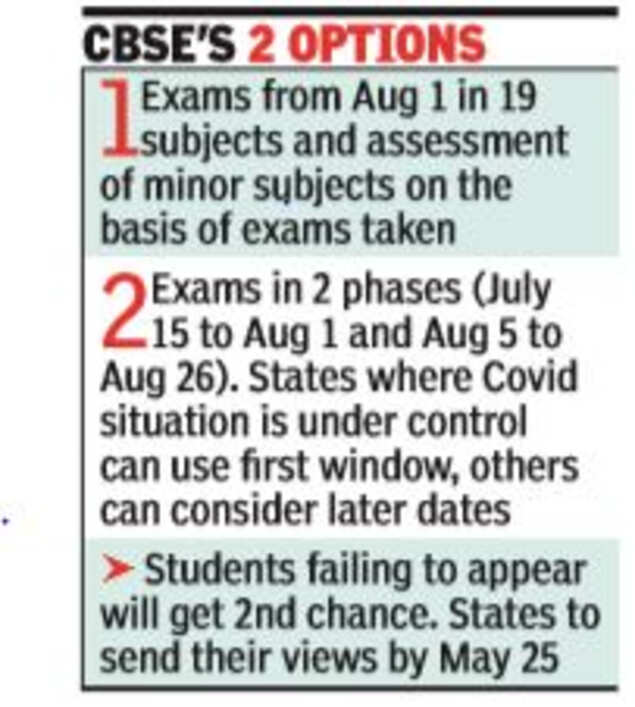 The second option was to conduct exams in two phases (July 15 to August 1 and August 5 to August 26). States where the Covid situation was under control could use the first window, and the others could consider the later dates. If a student failed to appear due to Covid-related matters, s/he would get another opportunity when the boards were held next.
Education minister Ramesh Pokhriyal, while tweeting that the safety and security of students and teachers were supremely important, said his ministry has sought detailed suggestions from states and would take an informed and collaborative decision at the earliest.
"I have requested the state governments to send me their detailed suggestions by May 25. I am confident we will be able to arrive at an informed, collaborative decision regarding the exams and remove uncertainty among students and parents by informing them of our final decision at the earliest," Pokhriyal tweeted.
Defence minister Rajnath Singh chaired the over-two-hour meeting. Ministers Smriti Irani, Prakash Javadekar and Sanjay Dhotre were among those who attended besides education ministers and secretaries of several states and Union territories.
Goa chief minister Pramod Sawant said a decision would be taken later, based on the schedule of national entrance exams.
The Tamil Nadu government proposed conducting the exams after the Covid-19 situation improved in the state. "Like other states, Tamil Nadu also wants to conduct Class 12 board exams as it plays an important role in deciding students' careers," school education minister Anbil Mahesh Poyyamozhi said.
Karnataka primary and secondary education minister S Suresh Kumar said it was important to conduct Class 12 exams in the interest of students.
Odisha school and mass education minister Samir Ranjan Dash said, "We could conduct exams after the Covid situation improves or we could cut short the exams to make it easy for students. Since the state is busy in preparation for Cyclone Yaas, we will make a decision after it passes."
The Kerala government proposed that the Centre should vaccinate all schoolchildren against Covid-19.
According to senior officials, the options proposed by the CBSE as well as the feasibility to execute them were discussed during the meeting.
A large section of students and parents have been demanding cancellation of board exams. The hashtags #cancelboardexams and #CBSE trended on Twitter as the meeting was under way.