HYDERABAD: Even as protests against the Centre's decision to privatise loss-making public sector undertakings (PSUs) such as Visakhapatnam Steel Plant continue, the Comptroller and Auditor General (CAG) said 53% of Telangana state PSUs were making losses due to various reasons.
In a report, the CAG said 47 PSUs have submitted accounts for auditing. Of them, 25 are in losses, 17 are making profits and five companies are neither making profits nor losses. The accumulated losses of all the state PSUs stand at Rs 38,000 crore as on March 2019.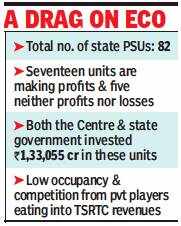 Both the Centre and the state government had invested Rs 1,33,055 crore in the form of equity, loans, grants and subsidies in these PSUs. The state's investment was to the tune of Rs 52,219 crore.
The CAG report said of the 82 state PSUs in Telangana, eight were of power sector and the rest 74 related to various other sectors. Among these, seven are government companies.
"Some state PSUs are facing huge losses. TSRTC is one such loss-making unit owing to low occupancy and facing tough competition from private bus operators. Both Telangana State Southern Power Distribution Company Ltd (TSSPDCL) and Telangana State Northern Power Distribution Company Ltd (TSNPDCL) incurred losses due to rise in operational costs and mounting dues. There was not enough financial support from the state government in the form of subsidy reimbursement," a senior government official said.
The CAG said losses of the eight power PSUs have been mounting since 2014. "When Telangana was formed in 2014, the losses of power utilities like TSSPDCL, TSNPDCL, TS Renewable Energy Development Corporation and other utilities were to the tune of Rs 1,900 crore. Now, they have risen to Rs 5,433 crore. Both TSSPDCL and TSNPDCL alone incurred a loss of Rs 8,018 crore out of total power PSUs' losses of Rs 28,000 crore in the past six years," the report said.
The accumulated losses of the other 39 PSUs and companies stand at Rs 10,617 crore. The report said major profit-making PSUs during 2018-19 were Telangana State Forest Development Corporation Limited, Telangana State Mineral Development Corporation Ltd, Telangana State Warehousing Corporation and Telangana State Technology Services Ltd. These profits were negated by the loss of Rs 928.66 crore reported by TSRTC, Hyderabad Metro Rail Corporaton and Telangana Drinking Water Supply Corporation (Mission Bhagiratha Corporation).
"The state government is providing drinking water without collecting any tariff from the people while a huge amount is spent on the project. The Centre has not given any financial assistance for the project. Similarly, the HMR does not have any revenue except financial support from the government," a senior CMO official said.