Metro work biggest source of dust pollution in Mumbai: Report | Mumbai News – Times of India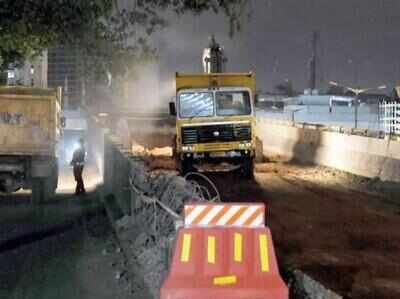 Picture used for representational purpose only
MUMBAI: Among the various ongoing infrastructure activities in Mumbai, the Metro rail work is the biggest source of dust pollution, revealed the World Resources Institute (WRI) in its findings submitted to the BMC.
"Construction activities are contributing to almost 8% of the total emission of particulate matter. Construction of Mumbai Metro projects specially contribute to 3.2% of suspension dust," said the report, which suggested that air quality issues should now be locally identified and tackled.
The WRI recommended that Mumbai should adopt cleaner fuels and decongest traffic by shifting people to public transport. It also urged for improving waste collection mechanisms, scientific remediation of landfill sites, increase in stack heights in industries, adoption of low-sulphur fuels by Tata Power, and appointment of enforcement marshals to ensure that citizens strictly follow the anti-pollution norms.
Frequent fires at landfill sites of Deonar and Kanjurmarg, besides indiscriminate frequent burning of wastes at isolated places, increase the pollution of deadly hydrocarbons and carbon monoxide, the WRI report pointed out. "Paved and unpaved road dust results in high concentration of suspension dust," the report said, suggesting a better road-sweeping and washing mechanism. Mumbai has a high annual concentration of particulate matter and nitrogen oxides from roadside construction and traffic emissions from heavy duty diesel vehicles.
The WRI also asked BMC for better monitoring and coordination to tackle pollution through a dedicated cell.
FacebookTwitterLinkedinEMail