Karnataka Unlock News: Night curfew cut by 1 hour, theatres to open today in Karnataka | Bengaluru News – Times of India

BENGALURU: With fresh cases of Covid-19 hovering around the 2,000-a-day mark, the state government on Sunday retained the night curfew but allowed theatres and colleges to open with precautions under Unlock 4.0 from Monday.
After meeting officials and ministers, chief minister BS Yediyurappa said the night curfew will be an hour less, between 10pm and 5am, while theatres will open at 50% capacity till August 2.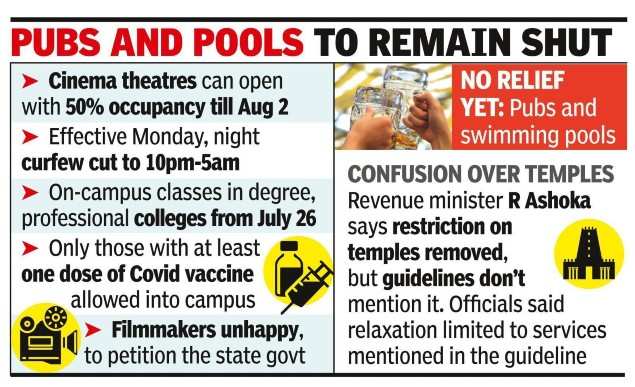 Degree and professional colleges will restart in-class learning from July 26 with strict adherence to Covid-appropriate behaviour, including wearing masks and maintaining social distancing.
However, the government made it clear that only those students, teachers and non-teaching staff who have taken at least one dose of Covid-19 vaccine will be allowed to attend offline classes.
'Reopening of swimming pools not discussed'
While pubs cannot reopen, class attendance for students is optional and all skill development training, including long-term technical courses, is permitted.
Reopening of theatres comes as a respite for the reeling film industry. "Reopening theatres with night curfew doesn't make sense. Theatres are allowed with half their seating capacity and night curfew means night shows that start after 7.30pm are not allowed," said DR Jairaj, president, Karnataka Film Chamber of Commerce. Even as many, including producers and exhibitors, want curfew to be lifted and theatres be allowed to take in audiences to full seating capacity, Jairaj has called a meeting of stakeholders on Monday following which he'll lead a delegation to the CM.
Health minister K Sudhakar was conspicuous by his absence at the meeting. Officials said his absence showed a lack of coordination in Covid management. They said Unlock 4.0 guidelines are not in sync with recommendations of the Technical Advisory Committee which reportedly had not permitted reopening of theatres.
Revenue minister R Ashoka said temples are allowed to resume normal activities for devotees to have darshan and offer all sevas from Monday. However, guidelines notified by the chief secretary don't mention it and officials said the relaxation is limited to only services mentioned. "The reopening of pubs was discussed but swimming pools did not figure in the talks. However, restrictions on temples have been removed," he added.