Journo ensures water supply for infected family in Karnataka | Mangaluru News – Times of India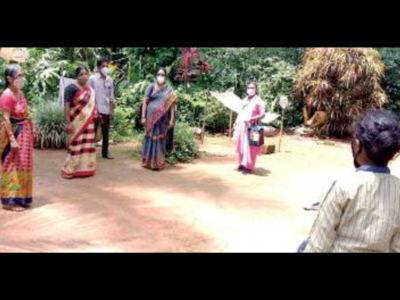 A team of volunteers delivers food packets to an infected family in Guttigar gram panchayat, Sullia taluk
MANGALURU: When a family of four in Sullia was banned from drawing water from their neighbour's well after one of them tested positive and the rest were in home quarantine, Mahesh Puchchappady, a journalist from Sullia, rushed to their rescue, making arrangements to ensure they received potable water.
Puchchappady said the family lives in a house located in SC Colony in Ballakka, Guttigar gram panchayat. One member tested positive and the results of three others are pending. Their neighbour's well has been their water source for years. The colony has about five houses.
"I placed a barrel in front of their house on Friday and neighbours fill it with water from the well. The infected family uses water from the barrel, thus avoiding contact with others," Puchchappady said.
He said every election, the colony — all the families are from economically poor sections — is promised drinking water connections, but nothing has transpired. "No alternative arrangement was made by the local panchayat for the Covid-19 affected family," he said.
Puchchappady said that in some areas, people are hesitant to help for fear of the disease. "People are afraid to even pass by houses that have reported positive cases. Stigma is another big problem in the region," he said.
Puchchappady also helps families in Ballakka with groceries and other essentials. "Some villages lack transportation facilities, making it difficult for people to reach hospitals," he said. "Due to the lockdown, there is restricted movement of private vehicles and many motorists refuse to ferry people to hospital fearing infection."
One silver lining, he said, is that the region received bountiful rain in April and May, and this has not aggravated water woes. In villages, when one well dries up, families draw water from other wells in the neighbourhood. Often one well caters to the water needs of several houses.
FacebookTwitterLinkedinEMail