Inn & out: Plan to link Delhi zoo with Sunder Nursery nixed | Delhi News – Times of India

NEW DELHI: Plans to connect Delhi zoo with Azimganj Sarai in Sunder Nursery have been scrapped, officials say, stating multiplicity of agencies and the need to break portions of the zoo's boundary walls made the project complex.
In addition, permissions were also required to fell around 90 trees under the Forest Conservation Act with the area being a 'deemed' forest.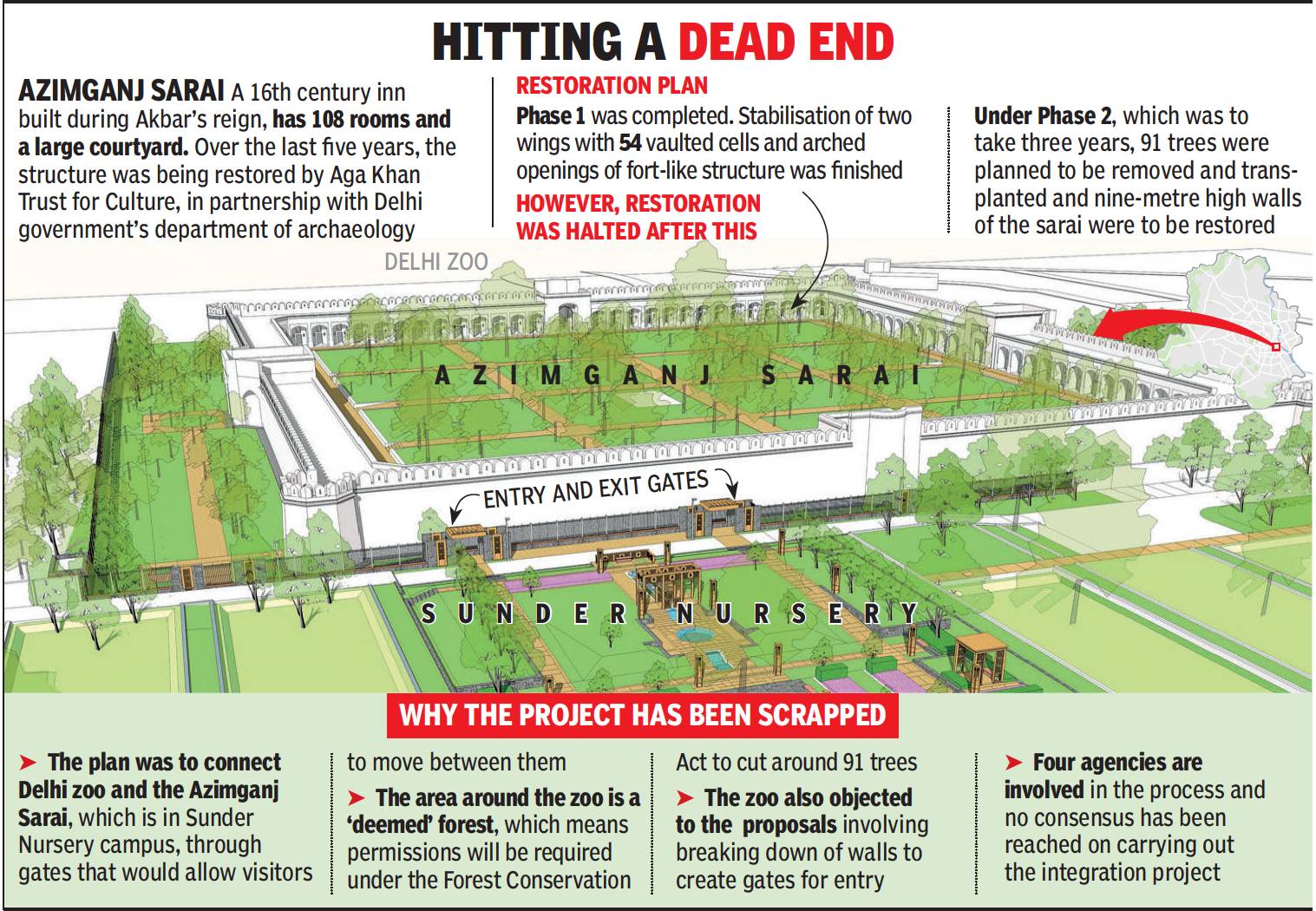 Under the plan, visitors from the zoo could cross over towards Sunder nursery through the sarai, while visitors at Sunder nursery could also enter the zoo through gates in the area falling between the two.
Aga Khan Trust for Culture (AKTC), which was working on restoration of the 16th century Mughal inn and its 108 individual rooms for over five years, says the restoration work has also been halted. AKTC had already completed Phase-I of the restoration, while Phase-II conservation work was to take an additional three years, consisting of repair work of the nine-metre high walls of the sarai. This was being done in partnership with the department of archaeology, which comes under the Delhi government.
Ratish Nanda, project director, AKTC, said restoration work was no longer continuing for the sarai with the zoo unable to come up with an agreement over certain project plans. "We are no longer working on its restoration. It may be resumed later if any fresh plan is put into work," said Nanda.
AKTC had earlier stated that a majority of the walls of the sarai, which has a large courtyard in the middle, were in a dilapidated state when the restoration work had resumed, with some walls collapsed towards the zoo and animal enclosures. AKTC said the project would not only conserve this Mughal structure but also prevent further damage towards Delhi zoo enclosures.
During this first phase, stabilisation work had been undertaken on two wings of the sarai, which consisted of 54 vaulted cells and their arched openings. For the second phase, trees falling within the vicinity needed to be transplanted.
Ramesh Pandey, director, Delhi Zoo, told TOI that on their end, the plan had been scrapped nearly six months ago with four agencies, including the zoo, AKTC, the department of archaeology and the urban development department, failing to come to a consensus over some matters.
"The area around it is a deemed forest and would require permissions under the Forest Conservation Act, with some trees to be felled under it. Walls of the zoo were also to be broken down and openings made, which we objected to," said Pandey, stating the proposal may be considered in the future if the sarai is fully restored.