In south, Tamil Nadu schools lag in learning outcome | Chennai News – Times of India
CHENNAI: Despite being among the top three states in school education in the country, Tamil Nadu got the lowest score among southern states in learning outcome and quality domain for 2019-20 in the Performance Grading Index (PGI) report relased by the Union ministry of education on Sunday.
As per the composite 70-point grading index assessing the quality of school education, Tamil Nadu got 906 points out of 1,000 points, an increase of more than 100 points compared to 2018-19. Only Punjab ( (929) and Chandigarh (912) have performed better than TN, which also moved two grades up from grade II to grade I ++.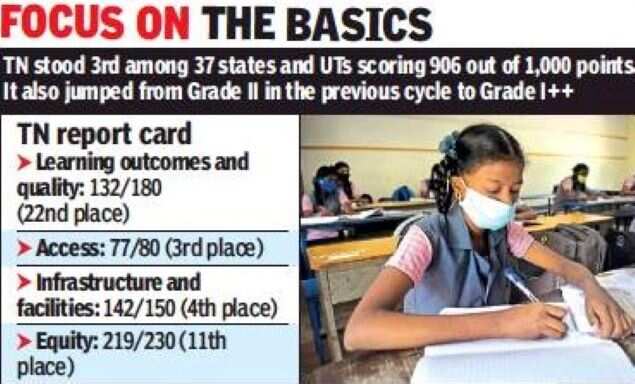 Among the southern states, however, TN (132) has the lowest score in learning outcome and quality compared to Karnataka (160), Kerala (154), Andhra Pradesh (154) and Telangana (142). In access to school, only Kerala (79) and Punjab (79) have better scores than TN (77). In infrastructure and facilities too TN fared well, with only Punjab, Delhi and Chandigarh being ahead of the state.
"According to the ASER 2018 report, one in four TN children in Class VIII were not able to read Class II level text. Only 50% students studying in Class VIII were able to do division. The reports from National Achievement Survey(IN THE) and Annual Status Report on Education (ASER) on learning outcomes over the past10 years are worrying," said educational activist B Oliver.
Burden of elementary school teachers should be reduced
Tamil Nadu also performed well in other domains of equity and governance processes. The grading index was developed to assess the quality of school education offered by states. The information on the indicators is drawn from data available from the Unified District Information System (UDISE), National Achievement Survey (NAS) of NCERT, Mid Day meal website, Public Financial Management System (PFMS) and Shagun portal.
The state should focus on foundation literacy and numeracy skills to have better learning outcomes. "The department also needs to focus on basics such as listening, speaking, reading, writing skills for Classes I to VIII students," B Oliver said.
K Devarajan, former director of school education said majority of elementary schools in the state have two teachers.
"The teachers are burdened with non-academic work. Most two-teacher schools effectively function as single teacher schools due to various tasks assigned to elementary teachers. Teachers should be left alone to teach and they should be held accountable if students lack basic reading and writing skills," he said. He further said the school education department should ensure students passing out of Class V should have basic reading and writing skills.