Hyderabad sees more road deaths than first half of 2020 | Hyderabad News – Times of India

HYDERABAD: Hyderabad traffic police has recorded more number of deaths due to road accidents in the first six months of 2021 compared to the first half of 2020. As per the data, 105 people had died in road accidents till June 2020, but in the first half of 2021, as many as 134 people died.
In the road accidents that took place in Hyderabad police commissionerate this year, speeding was recorded as the prime cause of fatal road accidents. "This year, due to speeding, 95 persons lost their lives. Negligence claimed 15 lives, wrong side driving led to eight deaths and drunk driving caused six deaths," police said.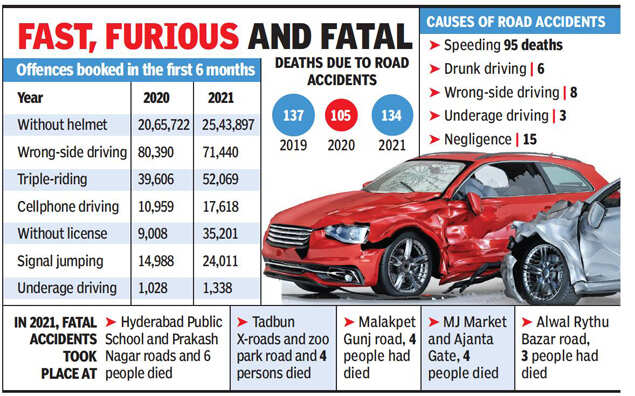 Additional commissioner of police (traffic), Anil Kumar, said that 50 black spots were identified in 2020 and corrective measures were taken by the police in coordination with GHMC and other departments concerned.
However, this year, the maximum number of deaths took place in the month of February, 2021 when 36 persons died, followed by April, in which 29 persons had died.