Hyderabad sees 69% increase in key pollutant nitrogen dioxide in last one year | Hyderabad News – Times of India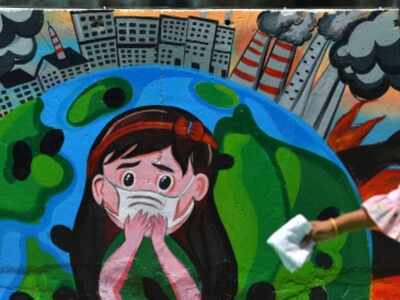 The city recorded the fourth highest rise in NO2 pollution levels in eight state capitals, after Delhi, Bengaluru and Chennai. (Representative photo)
HYDERABAD: Hyderabad saw a substantial increase of 69% in the level of the key pollutant, nitrogen dioxide (NO2) between April 2020 and April 2021, a new report by Greenpeace India said on Wednesday.
Greenpeace India made satellite observations in the eight most populous Indian cities to assess the NO2 levels over the past one year.
The report has attributed the hike to city's reliance on fossil fuels, including coal, oil and gas and due to increased economic activity once the lockdown was lifted last year.
NO2 is a dangerous air pollutant and exposure to it severely impacts people's lungs, blood circulatory systems and brain.
The report titled 'Behind the Smokescreen' revealed that despite lockdown 2.0, NO2 levels in Hyderabad have increased significantly. The city recorded the fourth highest rise in NO2 pollution levels in eight state capitals, after Delhi, Bengaluru and Chennai.
In Delhi, NO2 was higher by 125%, Chennai by 94%, Mumbai by 52%, Bengaluru by 90 %, Kolkata by 11%, Jaipur by 47 % and Lucknow by 32 %
"The air quality levels are alarming. Motor vehicles and industries based on fossil fuel consumption are major drivers of NO2 pollution. People saw clean skies and breathed fresh air during the nationwide lockdown though it was an unintended consequence of the pandemic. Recovery from the pandemic must not come at the expense of a return to previous levels of air pollution," said Avinash Chanchal, senior climate campaigner, Greenpeace India.
In addition to vehicular emission, experts attribute the rise in NO2 levels to high usage of fossil fuels, including coal, oil and gas.
Increased economic activity is still largely coupled with toxic air pollution.
"Part of this difference is attributable to changing weather conditions. After removing the effect of weather, there is still an increase of 38% which is attributed to an increase in emissions," read the report.
Earlier this year, the Centre for Science and Environment indicated that Telangana is among the top three states in the country, producing and procuring unclean coal-based power that is severely impacting the environment.
As per the report, 73% of the power produced and procured by Telangana is unclean.
"NO2 is much more dangerous than carbon dioxide. Neither the Central government nor the state governments have taken enough efforts to mitigate this issue. On one hand, they want to reduce the emissions but don't want to stop using coal," said Purushottam Reddy, well-known environmentalist.
"While Telangana government promotes Haritha Haram, it's attempt to extensively produce thermal power using coal only shows its dichotomy towards conserving the environment," he added.
FacebookTwitterLinkedinEMail