Fr Stan Swamy wonderful, had served society: Bombay HC | Mumbai News – Times of India

MUMBAI: The Bombay high court on Monday said the late Jesuit priest, Fr Stan Swamy, accused in the 2018 Elgar Parishad case, had "rendered services to society." Addressing the issue of undertrials languishing for long in prisons, the HC said, "(We) cannot keep aside humane considerations while deciding medical bail applications."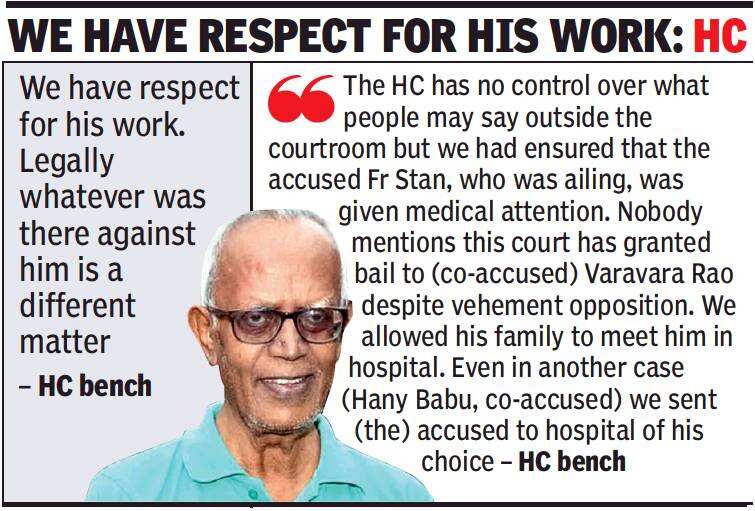 "We have respect for his work. Legally, whatever was there against him is (a) different matter," a bench of Justices S S Shinde and N J Jamadar said while hearing Stan Swamy's counsel on the need for a detailed enquiry into the run-up to his death. It observed that he was "wonderful," "the kind of services he rendered to the society." Justice Shinde added that he usually has no time to watch television, but saw the online funeral service for Stan Swamy. "It was very dignified and graceful. Such graciously and honorably they performed it."
Stan Swamy, 84, died on July 5 while he was in Holy Family Hospital in Bandra, having undergone treatment and having been cured of Covid-19 following his admission. The Justice Shinde-led bench had on May 28 directed that the tribal rights activist from Ranchi be shifted immediately to the private hospital from Taloja prison, where he was housed since his arrest by the National Investigation Agency (NIA) last October. His was the last arrest and he was the oldest of the 16 accused chargesheeted under the stringent anti-terror law, Unlawful Activities (Prevention) Act (UAPA) for being an alleged Maoist.
"How many years people will have to languish in jails? Not only this case but others also?" asked the bench on Monday. Senior counsel Mihir Desai, representing the late Stan Swamy, requested the HC to allow Fr Frazer Mascarenhas, former St Xavier's college principal, to participate in the legally mandated magisterial enquiry into the death, as his next of kin and that the report be submitted to HC. He also said the enquiry be done as per the National Human Rights Commission guidelines. "What has to be considered is what led to the cause of his death," said Desai.
The HC judge said it had no control over what people may say outside the courtroom but expressed that it had ensured that the accused Fr Stan, who was ailing, was given medical attention. "Nobody mentions this court has granted bail to (co-accused) Varavara Rao despite vehement opposition. We allowed his family to meet him in hospital. Even in another case (Hany Babu, co-accused in Elgar Parishad case) we sent (the) accused to hospital of his choice," the bench said.
Desai acknowledged the time given by the bench even to Stan Swamy's pleas. "On two occasions, even when matter was not on board, the bench graciously granted us time…I had said it then (on July 5, when medical director of Holy Family hospital announced Stan Swamy's death) and am willing to go on record even now, that there was no complaint against the HC."
Advocate Sandesh Patil for NIA said HC was hearing Swamy's bail appeals and had sought time, as ASG Anil Singh was held up before another bench.