Delhi Metro News: Metro closes gap in longest, shortest lines | Delhi News – Times of India
NEW DELHI: Just days away on Friday, the opening of two small stretches — the 290-metre 'missing link' at Trilokpuri and the 891-metre Najafgarh-Dhansa Bus Stand station section — will finally complete Delhi Metro's longest and shortest corridors, the Majlis Park-Shiv Vihar Pink Line and the Dwarka-Najafgarh Grey Line.
The 58.4-km, arc-like Pink Line has been operating as two separate corridors due to the gap in the tracks between Mayur Vihar I and Trilokpuri created by land unavailability, with one section going from Majlis Park to Mayur Vihar Pocket I and reversing there, while trains coming from Shiv Vihar make a U-turn at Trilokpuri station. At 3pm on Friday, when it will be opened for public use by Union housing and urban affairs minister Hardeep Singh Puri and chief minister Arvind Kejriwal, the Pink Line will become the longest operational line of Delhi Metro's network.
The corridor will overtake the 56.6-km Blue Line (Dwarka Sector 21-Noida Electronic City) in length. The Blue Line, however, has a separate 8.7-km segment connecting Yamuna Bank with Vaishali. When extended from Majlis Park to Maujpur in Phase IV, the Pink Line will become India's longest corridor with an approximate length of 70km, also becoming in the process the country's only metro 'ring corridor'.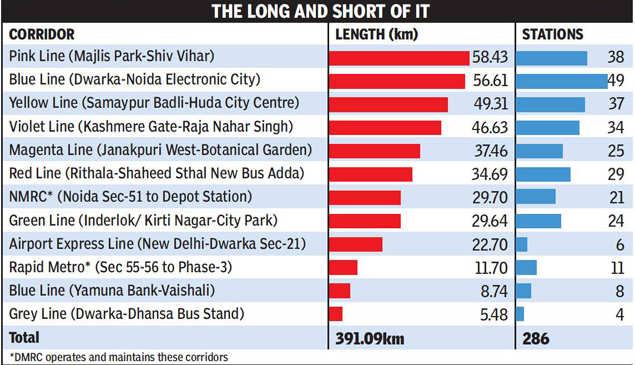 A Delhi Metro Rail Corporation official said that at present, 30 trains run on the Majlis Park-Mayur Vihar I section and 13 trains on the Trilokpuri-Shiv Vihar segment, including standby. "After the integration of the missing link, these 43 trains will all run in the corridor. Detailed operation plans are being chalked out," said a DMRC official.
When fully operational, the corridor will connect north, west and south Delhi with eastern areas of Delhi. With Covid guidelines permitting only seated passengers at the moment, it isn't possible to gauge the impact the opening of this section will have on ridership.
DMRC said that with the corridor connected end to end, passengers will save time and money. For instance, those travelling from Gurgaon to Trilokpuri-Sanjay Lake area or beyond will save 20 minutes because there will be only one interchange at Delhi Haat-INA instead of the two at present.
Similarly, those travelling from Faridabad and south Delhi will also save 20 minutes while those coming from or going to Noida will have a 25-minute shorter journey. DMRC has also calculated a Rs 20 reduction in fare for the passenger when traveling to and from 38 sections, including locations like Lajpat Nagar, Noida City Centre, Botanical Garden, Mohan Estate to Trilokpuri or vice-versa. Similarly, there will a decrease in fare of Rs 10 in 524 sections.