Delhi: Covid funerals below 200 for first time in nearly 40 days | Delhi News – Times of India
NEW DELHI: For the first time since April 15, the daily number of Covid-protocol funerals in the city has gone below 200. According to the reports from the three corporations, 161 Covid funerals took place on Friday.
Delhi saw 181 funerals on April 15 and the upward trend continued till the daily figure peaked to 717 on April 29. Since then, the numbers have shown a steady decline. The funeral report from last week showed that 224 Covid-19 funerals took place on Thursday and 208 a day earlier.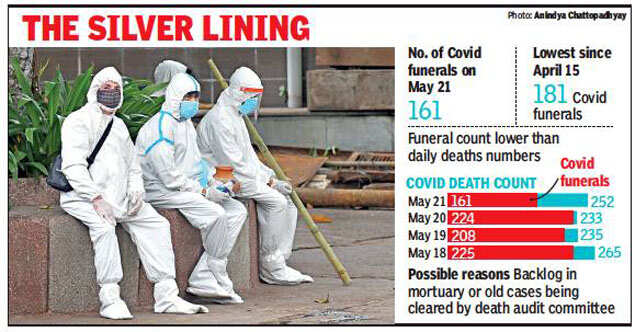 Interestingly, the daily funeral count has been lower — by anywhere between 10 and 90 — than the official toll announced in the health bulletin through the last week. For instance, the official number of deaths on May 21 was 252 whereas 161 Covid-protocol funerals had taken place on the same day, according to the municipal reports. Similarly, the number of Covid funerals was less than the official death count by 9 on May 20, by 27 on May 19 and by 40 on May 18. The difference was as wide as 86 on May 17.
Municipal officials seemed unsure of the reason for this discrepancy. "Either there is a backlog of bodies at the mortuaries or old cases that were earlier not accounted for have been cleared by the death audit committee," an official said, on the condition of anonymity.
And while the Covid-protocol funerals peaked on April 29, the count remained above 700 on April 28 and 30 too. The numbers finally went below 400 on May 11 when 379 such funerals took place. With the number now down to under 200, officials said if the trend continued, they could scale down the number of pyre platforms reserved for Covid-19 patients over the next few days.