Covid-19 in Delhi: 14-day isolation for 60 monkeys before 'vanvas' | Delhi News – Times of India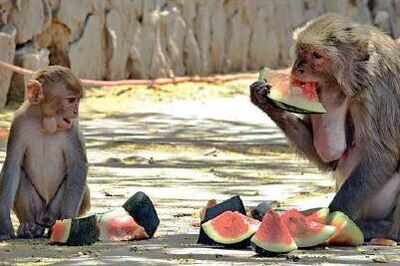 The monkeys were caught from areas where Covid-19 cases were reported
NEW DELHI: After eight lions tested positive for Covid-19 at Hyderabad zoo two weeks ago, Delhi forest department has quarantined nearly 60 monkeys recently caught in south Delhi. The simians will be released in Asola Bhatti Wildlife Sanctuary after they complete 14 days of isolation.
The monkeys were caught from areas where Covid-19 cases were reported and the forest department decided to quarantine them as a precautionary measure. Forest officials said no monkey has shown symptoms of infection and they subjected the random animals to rapid antigen tests, which all returned negative results.
Deputy conservator of forests (South) Amit Anand said, "As the lions had tested positive for Covid, we are taking preventive measures while releasing the captured monkeys in Asola Bhatti Wildlife Sanctuary. After South Delhi Municipal Corporation caught the monkeys from the areas where Covid cases have been reported among humans, we quarantined the simians at an animal rescue centre in Tughlaqabad. We conduct regular health checkups, and not one monkey has shown Covid symptoms. A few random samples tested negative. Of the 60 monkeys, we released the first batch of around 30 and the rest are under observation."
A forest official explained these precautions were being taken to ensure that the monkeys did not transmit Covid to other animals in the sanctuary. Among the wild animals found at Asola are leopards, nilgais, jackals and porcupines. "Our usual release spot for monkeys is near Neeli Jheel, but we are releasing these monkeys at another waterbody to prevent their mixing with the wild animals there," the official said. "We are also preparing another feeding place for relocated monkeys near the water point."
According to a 2018 status report submitted in Delhi High Court, Asola Bhatti has approximately 25,000 monkeys, many of them transferred there from the capital since 2007 following a high court order. Forest officials claimed that nearly 2,500kg of food is provided to monkeys each day, with nearly Rs 8 lakh a month being spent on this. "For estimating the current population of monkeys within the sanctuary, we propose to conduct a census this year," disclosed an official.
FacebookTwitterLinkedinEMail