Chennai rivers carry our litter to beaches | Chennai News – Times of India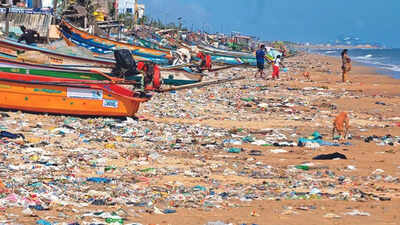 Plastic covers, water bottles and other trash litter the Besant Nagar beach after the recent rain. TOI Photo: Ramesh Shankar R
CHENNAI: The floods triggered by heavy rain in the last few days may have flushed out waste from the Cooum and Adyar rivers, but the currents have pushed it all back to land, in particular to the Elliot's and Marina beaches.
A team from city-based National Centre for Coastal Research (NCCR) visited the two beaches on November 21 and found large quantities of garbage on the Elliot's beach at Besant Nagar, while the Marina had puddles of water mixed with sewage.
"The waste was from the Cooum and Adyar rivers. It gets pushed to sea along the coast due to the southward movement of the currents. It gets deposited on the high tide line and once the water recedes, it gets trapped on the sand and from there distributed all over by winds," said Pravakar Mishra, NCCR scientist.
In a 2018 article published in 'Current Science', NCCR scientists said nearly one lakh tonnes of debris including plastic, rubber and thermacol were pushed to the Chennai coast during the December 2015 floods. Similarly, after a heavy spell in November 2017 triggered a flood-like situation, measurements at the mouths of the two rivers and the Marina, Elliot's and Thiruvanmiyur beaches revealed a majority of the waste was plastic. It included 28% plastic bags, 14% bottles and caps, 13% straws and 9% food wrappers. The bacterial population of E-Coli and other fecal coliforms were 5-6 times higher at the river mouths and beaches soon after the rain indicating presence of sewage.
"Cleaning the beaches alone is not going to solve the problem. A better litter management is needed," Mishra said.
FacebookTwitterLinkedinEMail