Chennai: Loo and behold! Food courts, charging stations on the go | Chennai News – Times of India

CHENNAI: Chennaiites on the go can soon attend nature's call in futuristic toilet complexes.
Greater Chennai Corporation is working to set up upgraded toilet complexes, replete with food courts that have vending machines and electric vehicle charging stations, on small plots across the city.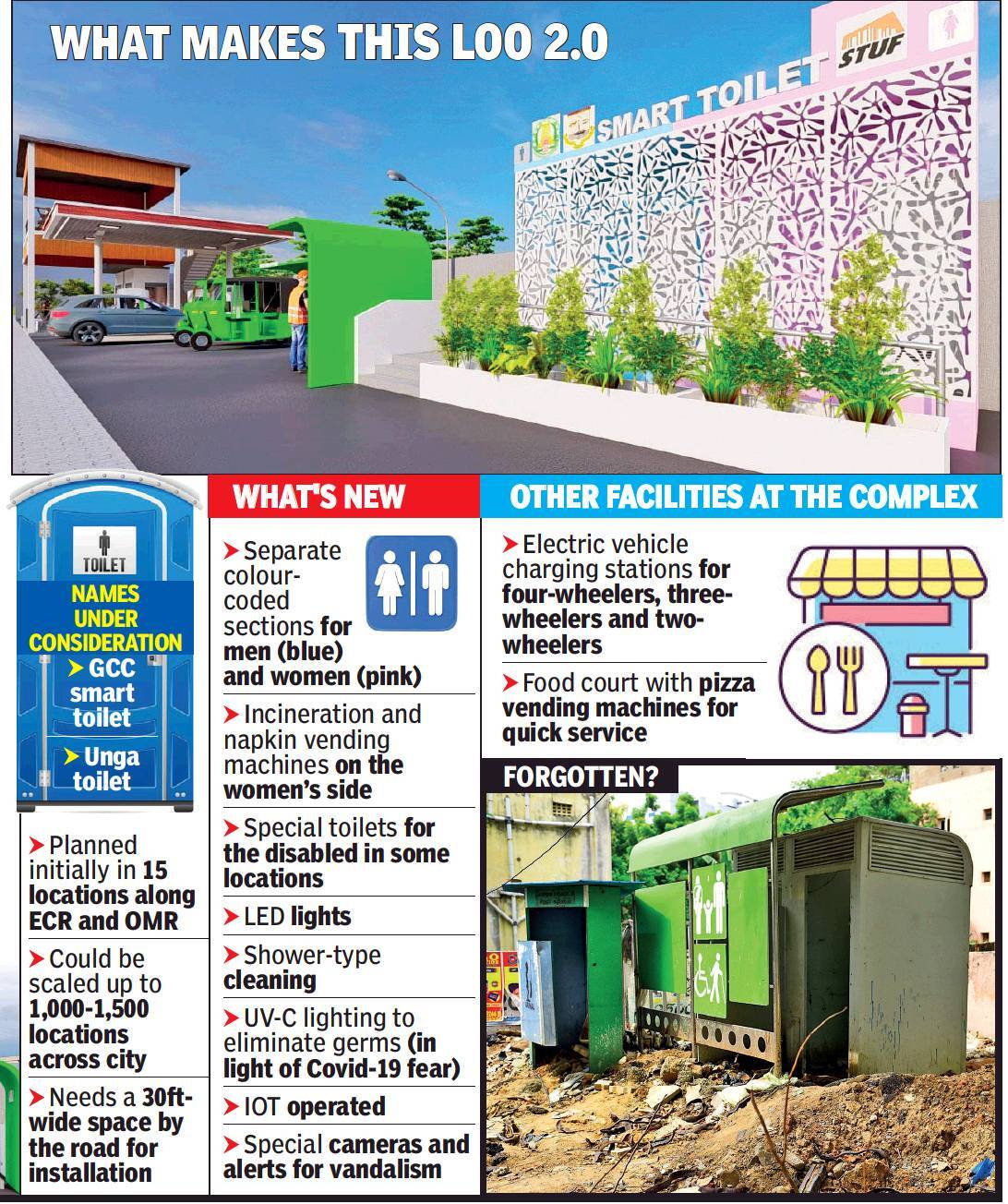 Zonal authorities have begun scouting for locations along East Coast Road (ECR), Old Mahabalipuram Road (OMR) and some areas in central Chennai where the project can be carried out on a pilot basis, a senior official said. If successful, the civic body could scale up the project to install at least 1,000-1,500 such complexes.
People can use the toilets for free and maintenance cost would come from the revenue collected via the food courts and other amenities, an official said. Contractor Sign Tec Urbaninfra Furnitures (STAF) is executing this project.
Aside from colour-coded toilets for men and women, the complex will also have provisions for those with physical disabilities. All locations will have ramps. Toilets for women will come with sanitary napkin vending and disposal machines. Mother care centres are also planned at some complexes. A high pressure pump would ensure that water supply to the toilets is replenished within six seconds, said STAF CEO R Sridar.
The toilets would be equipped with UV lighting to kill germs and a shower-type cleaning system with all operations completely handled by IOT. It will also have special alarms which will go off in case of vandalism. "The cleaning process can be programmed in different modes," Sridar said. The UV technology has been sourced from the Defence Research and Development Organisation (DRDO).
The toilets are likely to be called 'Unga toilet' or 'GCC smart toilets'.
The toilet itself will be a concrete-cast. It can be installed at the location over one or two nights causing minimum disruption to traffic, Sridar said. "In a city like Chennai even places away from the sea face corrosion. Concrete toilets will have a lifespan of 50 years, higher than the metal toilets," he added.
In case of vandalism, the system will send an alert to the local corporation area engineer prompting a quick visit to the spot, if necessary. The safety cameras installed on site can be linked to the civic body's command and control centre, Sridar said.
A similar model had been commissioned for the Trichy corporation under the smart city project just before the first wave of Covid-19.
Multiple models have been presented by the contractor. For instance, some locations will have EV charging stations for four-wheelers, while some others will have 'battery swap' technology for autos.