Bengaluru: Woman leaves trolley bag at metro station, causes panic | Bengaluru News – Times of India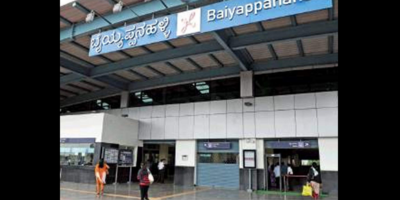 Bomb scare was reported at Byappanahalli Metro station
BENGALURU: An abandoned trolley bag created a bomb scare at Byappanahalli Metro station on Sunday morning. Tension prevailed until a Bomb Detection and Disposal Squad (BDDS) examined the bag at 10.45am and declared there were no explosives in the bag.
Cops later returned the bag to 25-year-old Yamuna of Krishnayyana Palya. She had come to the station to reach Majestic and later catch a train to her hometown in Odisha. She kept her luggage inside the station and went back home to get her cellphone.
Meanwhile, security staff noticed the bag was abandoned for more than 10 minutes and checked with their metal detector.
They alerted Byappanahalli police after they found the detector blinking for metal traces inside the bag. Police rushed to the spot and summoned a dog squad and BDDS.
Passengers panicked when security was beefed up. Officials found a key and clothes of a woman.
Meanwhile, police verified CCTV footage and found a woman keeping the bag before she left the station. She returned to the station within a few minutes of the security check.
Fight with husband
The woman told police she is a housemaid and her husband worked as a plumber in the city. She had an argument with her husband over his alleged addiction to mobile games, and she had decided to return to her hometown in protest.
Police found she was innocent and had left the bag in the station without any bad intention. So, police summoned her husband and sent the duo back home after counselling them not to fight over petty problems.
FacebookTwitterLinkedinEMail