Bengaluru: Smart City work proves whammy for Avenue Road | Bengaluru News – Times of India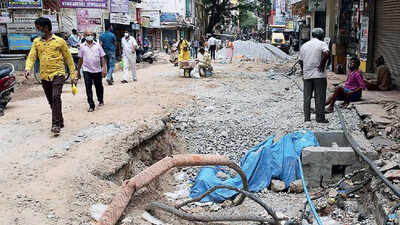 Shop owners say meandering infrastructure work coming in the wake of two lockdowns is hurting livelihoods
BENGALURU: There appears to be no relief in sight for traders on Avenue Road, a popular shopping hub in the heart of Bengaluru. After suffering massive losses from the two pandemic-induced lockdowns, their businesses are stagnating due to the snail's pace of redevelopment work.
Bengaluru Smart City Ltd (BSCL) launched a project to redevelop the road in January this year and it has already missed its June deadline to wrap up work. Now, although lockdown restrictions have been lifted, most establishments are impossible to access because roads are dug up. Several businesses on the road have pulled down shutters for good after incurring huge losses.
Uttam Jain, who runs a confectionery shop, said, "My grandfather began this shop in 1942 and I have been running it for over 20 years now. In all this time, never have I seen this road in such a pathetic shape."
Jain said ever since work began, footfall has dropped. "I would do Rs 1 lakh business a day, but it has now dropped to Rs 20,000. Businesses have taken a serious hit already with two lockdowns. Now, infrastructure work is taking a heavy toll on our livelihoods," he said.
Traders believe the primary issue is that there is no coordination among civic agencies involved.
"At one point, we did not have electricity for five days," Deepak Khemani, the brother of a confectionery shop owner, said. "Not a single authority seemed to be concerned. Everything including dairy products went bad. After we raised a hue and cry, Bescom temporarily fixed the problem."
Only 40% of business
Sajjan Raj Mehta, a trade activist, said while the redevelopment project is a welcome move, BSCL should have tackled the work in phases. "They have dug up every part of the road and have completed nothing," Mehta said. "Avenue Road does not merely connect Bengaluru North and South but also generates high revenue. Ever since the lockdown was lifted, traders have been able to do only 40% of the business they used to do before the lockdown. However, we believe that if infrastructure and other facilities improve, then our businesses too will improve."
Mehta said good roads, better pavements, a scientific drainage system and parking facilities are some facilities they desperately need. "Seven decades after Independence, we are still fighting for the basics," he said.
Traders have now approached their MLA, MP and the BBMP chief commissioner and urged them to intervene and ensure work is completed quickly. Underground drainage work on both sides of the road has been completed, while a stormwater drain, and Bescom and OFC cable duct construction works too are over.
Whitetopping pending
During an inspection of the road on Monday, BBMP administrator Rakesh Singh asked officials to take up pending concrete work and complete it as soon as possible.
Admitting to a delay, BS Prahalad, chief engineer, BSCL, promised to finish it all by August 10. "It is not easy to finish work so quickly in a city like Bengaluru, especially during a pandemic," Prahalad said. "There was a lot to be done. Whitetopping will commence soon and will be completed in 20 days."
Prahalad said work on the entire stretch was taken up in one go only after consent of traders was obtained.
FacebookTwitterLinkedinEMail