Bengaluru: More dedicated bus lanes to be demarcated on roads
Neatly done plastic bollards that give exclusive right of way to BMTC buses on the
Outer Ring road
(
ORR
) are to be extended to other roads in the city.
The Directorate of Urban Land Transport (DULT), which designed the 20-km bus priority lane on ORR, is at the moment finalising designs for creating similar lanes on a total of 70 km of city roads network.
"We have identified 70-km of roads for the creation of bus priority lanes. There were extensive discussions with all stakeholders. We are yet to get permission from the NHAI. A dedicated lane for buses will come up on 25-km of road (in either direction) which will soon be developed by the Karnataka Road Development Corporation (KRDCL)," a senior DULT official said.
The design will be similar to the ORR priority lane. "We will install plastic bollards so that motorists do not obstruct the movement of buses. In places where the main carriageway merges with the service road, there will be road markings. The junctions will get new designs too," the official added.
Such a lane is to come up on a 25-km stretch in just about six months. The project might take more time to materialise on other roads as it requires green signal from other agencies including the National Highway Authority of India (NHAI) and Karnataka Road Development Corporation Ltd (KRDCL).
Of the five roads where the priority lanes are proposed, DULT, in consultation with BMTC and KRDCL, has already completed detailed designs for two roads — Tin Factory to Hebbal (15-km) and Hebbal to Goruguntepalya (10-km). Officials said bus lanes would come up on these two roads immediately as the work was included in the tender issued by KRDCL as part of developing 12 high-density corridors at a total cost of Rs 850 crore. Documents show that DULT has also been working on the design for creating a dedicated lane for buses between Goruguntepalya and Mysuru Road though the project is unlikely to be implemented anytime soon. Though KRDCL prepared initial improvements for 12 corridors, the bus priority lane was not included as a scope of work in the tender for this particular stretch.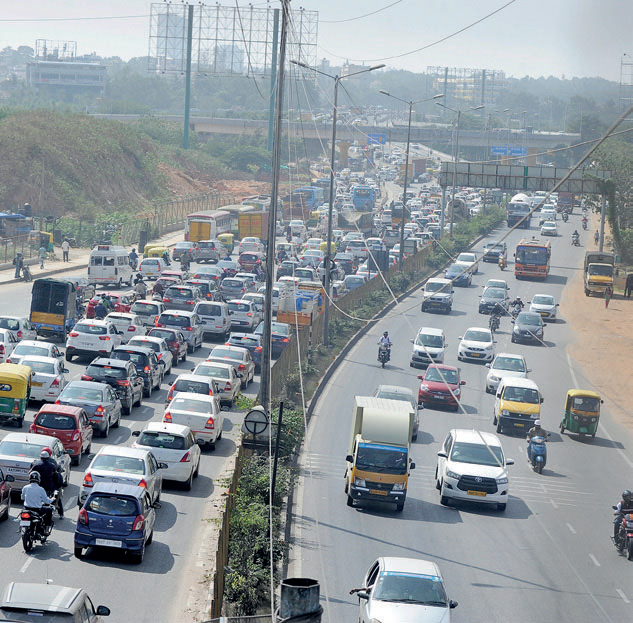 The two remaining roads where the bus priority lane is proposed are national highways. DULT has already prepared a design for the bus priority lane on the left side of Hosur Road (Silk Board-Bommasandra) and Ballary Road (Hebbal-Kogilu Cross). According to a source, officials had two consultation meetings with the NHAI but the outcome was not positive.
Just lane not enough

Transport experts and commuters are of the view that building an exclusive lane for buses can cause more harm than good. They suggest a big increase in the frequency of buses on the corridor so that public transport becomes attractive to commuters as compared to personal vehicles.
Ashish Verma, transport expert and professor at Indian Institute of Science (IISc), Bengaluru, felt the authorities see creation of bus priority lanes as an engineering measure. "After providing an exclusive lane, the frequency of buses must improve thereby increasing the carrying capacity of the bus lane. The frequency should align with the origin and destination flows of the commuters for the project to succeed," he said.
"If more buses do not run on the corridor, motorists stuck in traffic will feel the project is a failure," he said, adding that a priority lane can be created even on a two-lane road (in either direction) by marking one lane exclusively for the buses. Verma said the pilot project on the ORR should not be seen from the lens of success as it should help in better implementing the project.

It will take several years for the Metro or suburban rail to expand. There is nothing wrong in experimenting with bus priority lanes as the cost of implementation is minimal. If it goes wrong, it can be dismantled in no time.
– Srinivas Alavilli, Citizenship and Democracy for the Janaagraha Center
Srinivas Alavilli of the non-profit Janaagraha Centre for Citizenship and Democracy, meanwhile, said bus lanes are the easiest and quickest solution to address traffic congestion: "It will take several years for the Metro or suburban rail to expand. There is nothing wrong in experimenting with bus priority lanes as the cost of implementation is minimal. If it goes wrong, it can be dismantled in no time."
Shashidhara B, a resident of JP Nagar, wondered if BMTC had even deployed one extra bus after ORR got the bus priority lane. "When I travelled to Whitefield, I didn't even see one bus on the lane till Marathahalli. It is a criminal waste of resources if the BMTC believes the bus lane will be a success by running a few buses," he said.

BMTC Managing Director MT Reju was not available for comment.