Arvind Kejriwal: Delhi CM Arvind Kejriwal writes to PM for Bharat Ratna to doctors, health workers for Covid service | Delhi News – Times of India

NEW DELHI: Chief minister Arvind Kejriwal has written to Prime Minister Narendra Modi, requesting that the nation wants Bharat Ratna be given to the "Indian doctor" this year. He said that by this, he meant the entire medical fraternity, including all doctors, nurses and paramedics.
Kejriwal has written that many doctors and nurses have lost their lives in the battle against Covid-19 and if they are honoured with Bharat Ratna, it will be the real tribute to them. He also said that if the rules didn't allow a group of people to be given Bharat Ratna, those rules should be changed.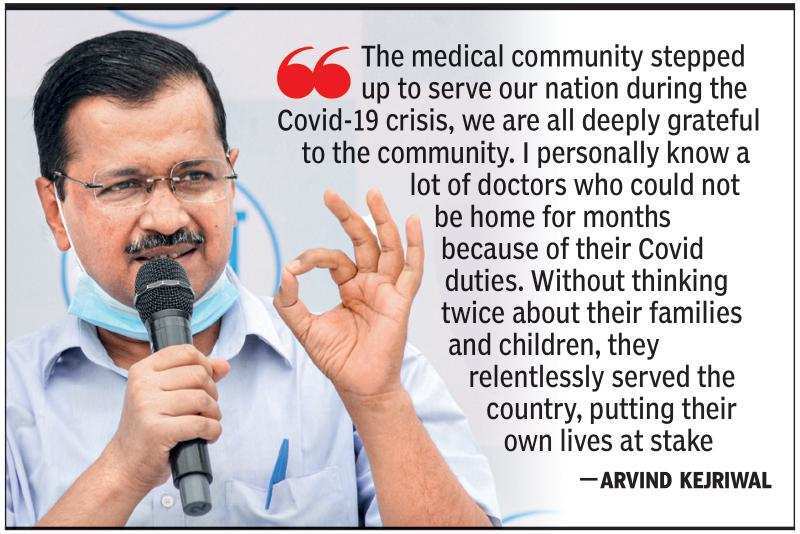 Bharat Ratna is the highest civilian award in the country and was last given to Pranab Mukherjee, Bhupen Hazarika and Nanaji Deshmukh in 2019.
"This is the greatest manner in which we can pay our respect and homage to all those who have martyred while serving the nation on Covid duties," Kejriwal said during an address as the chief guest of Project StepOne's Doctors' Day celebrations. Project StepOne is a volunteer-run group of doctors and other citizens that helps provide telemedicine services during the pandemic.
"The medical community stepped up to serve our nation during the Covid-19 crisis, we are all deeply grateful to the community. I personally know a lot of doctors who could not be home for months because of their Covid duties. Without thinking twice about their families and children, they relentlessly served the country, putting their own lives at stake," he said. "They were not getting any special benefits, extra payments or promotions, they weren't getting anything in exchange. Yet they all did their best because of their love for humanity. We salute all these brave doctors, nurses and paramedics."
"I received an interesting message once; it read that all temples are shut during Covid because God is serving at hospitals wearing a white coat," he said. "Despite this there were some incidents around the country where doctors were mistreated; yet in 99% cases, our doctors bore through the agony in empathy for the patients and their families."
Kejriwal said the ex gratia of Rs 1 crore being given to the families of frontline workers and doctors was not compensation, but a token of respect for their services. "We tried our best to fix the system as much as was in our capacity… This is not compensation, this is a way of thanking their service, and reinforcing that we care for them, and the country and the society stand with them."