9% school kids in 3 Tamil Nadu districts addicted to intoxicants: Survey | Chennai News – Times of India

CHENNAI: A gaana song opens with a chillum being passed around by people smeared in ashes. The video plays on with the lyrics peppered with references to different types of intoxicants. Glimpses of joints being rolled flicker on the screen and the lyrics extol the "good effects" of smoking ganja. Songs like this are popular among adolescent children, many of whom fall prey to substance abuse, initially getting into it out of curiosity and because of peer pressure.
It's not only ganja. A survey conducted by non-governmental organization Institute of Social Education in three districts in April last year found that 9% of school children (Classes VII to XII) were addicted to substances such as alcohol, cool lip (a tobacco-derivative) and cigarettes, besides ganja. The NGO took the help of teachers to conduct the survey among 3,021 students studying in 168 schools in Chennai, Tiruvannamalai and Ooty districts.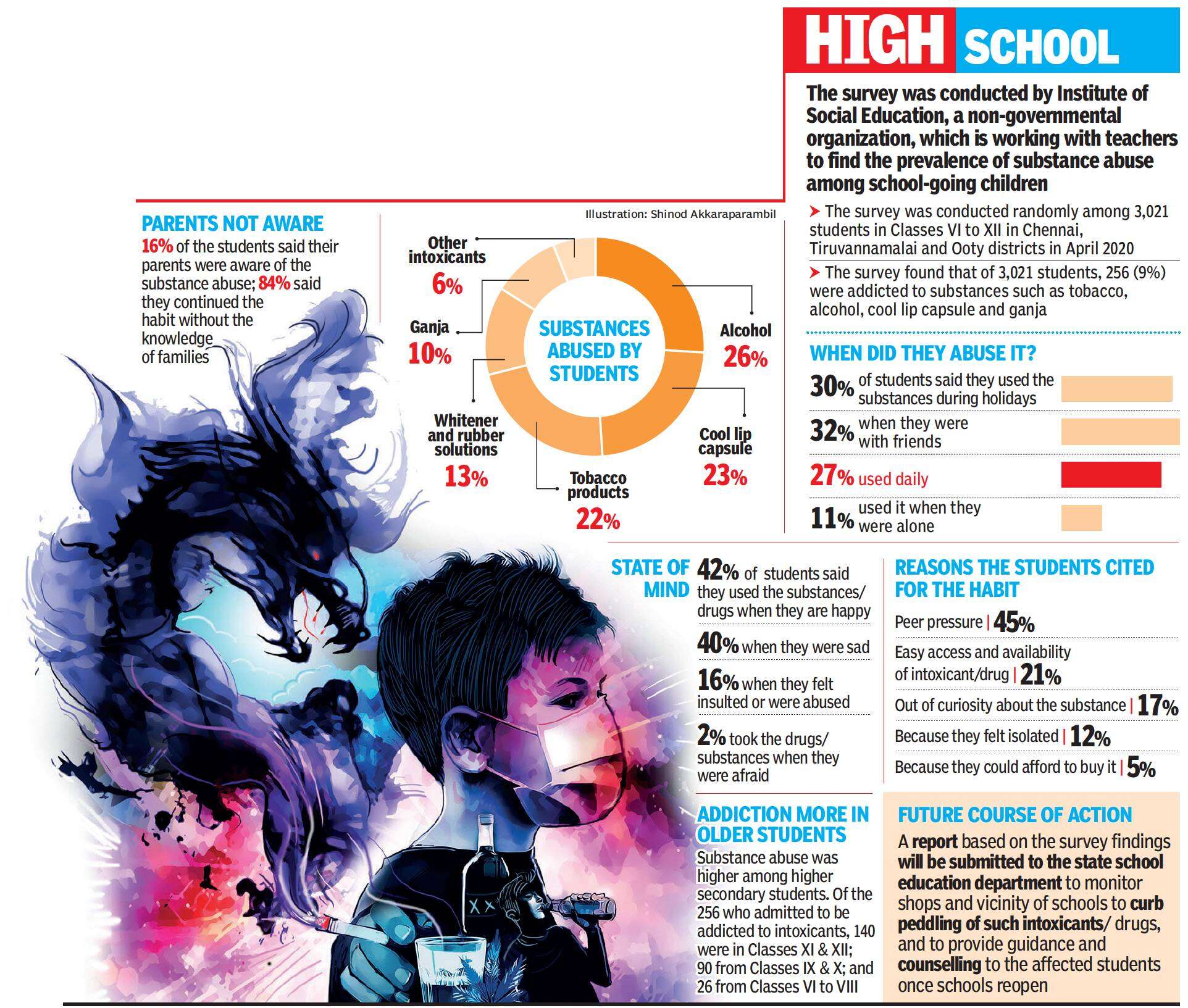 Of the children who admitted to substance abuse, 26% said they were addicted to alcohol, 23% used cool lip, 22% smoked or used other tobacco products, 13% sniffed whitener and rubber solution, while 10% smoked ganja.
The reasons for substance abuse were varied – 45% said it was because of peer pressure, 21% said it was because of easy access, and 17% said they tried out of curiosity.
Kurinji, a school teacher from a school near Chennai, said petty shops near schools were encouraging children to get their peers to try cool lip. "It all starts with a cool lip capsule to which some primary students are also addicted. The petty shops give one sachet free to students who bring others. The state government should conduct a major drive throughout the state and seal the shops which sell this substance to young children," she said.
R Siva, another teacher, said songs promoting ganja are getting popular among school children on video streaming platforms. "After the online classes, students are viewing these types of songs," he said.
"Students are now exposed to so many undesirable things through streaming platforms and other mediums as parents start to go back to work. Students from elite backgrounds or from nuclear families are especially vulnerable. Parents need to spend quality time with their children," said N Vijayan, senior principal of Zion and Alwin group of schools.
"The state government needs to monitor petty shops when schools reopen. Teachers need to be trained on prevention of substance abuse and the government needs to appoint a counsellor at block level or district level," said J Shiyam Sundar, director of Institute of Social Education.
Cutting access to drugs key, say experts
From giving individual attention to students to training teachers to strict implementation of legislation, experts have various suggestions to prevent substance abuse among children.
With schools expected to reopen, handling substance abuse problems may become a bigger challenge for managements.
Chitra, a teacher, said proper care and attention to individual students can help. "We need to show love to provide emotional support to students," she said.
Many teachers say schools alone cannot put an end to this. "The government along with law enforcement agencies need to make sure these substances are not available," said one.
V Surendran, associate professor and head of Psycho-Oncology and Resource Centre for Tobacco Control, Cancer Institute, Adyar, said many use substances such as cool lip due to peer influence. "It is not the responsibility of just the government, policy makers and enforcement officials, teachers and parents are responsible too," he said.
The centre is conducting intervention sessions in schools and creating awareness among teachers about effects of tobacco. "Parents need to spend adequate time and observe what their children do. Is there any smell coming from them? What is in their pocket? Parents and teachers need to be more vigilant and help the children learn things for lifeskill development," he said.
Another psycho oncologist, E Vidhubala, said there was a shift in the way tobacco is being promoted among children. "Tobacco products and narcotics such as ganja are everywhere. Petty shops sell cigarettes and other tobacco products to all age groups." Stringent implementation of legislation is needed, she said.
Akila Radhakrishnan, social policy specialist, Unicef (TN), said: "During the pandemic, we conducted E-consortium, a webinar series in which the topic was discussed with government school teachers. We are preparing a policy advocacy report on adolescent responses planning, in which the issue will be a part."