50% rise in PhD enrolments from medical fields in 3 yrs | Mumbai News – Times of India

MUMBAI: The number of medical experts, be they neurologists, pharmacists, ayurveds or nurses, enrolling for PhD has been steadily going up.
While 5,981 healthcare professionals enrolled for doctoral studies in 2016-17, the corresponding number is 1.5 times that at 9,330 in 2019-20. In 2017-18 and 2018-19, the enrolments for a PhD in the health sciences numbered 7,086 and 7,473, respectively, said the All India Survey on Higher Education (AISHE) released by the HRD ministry recently.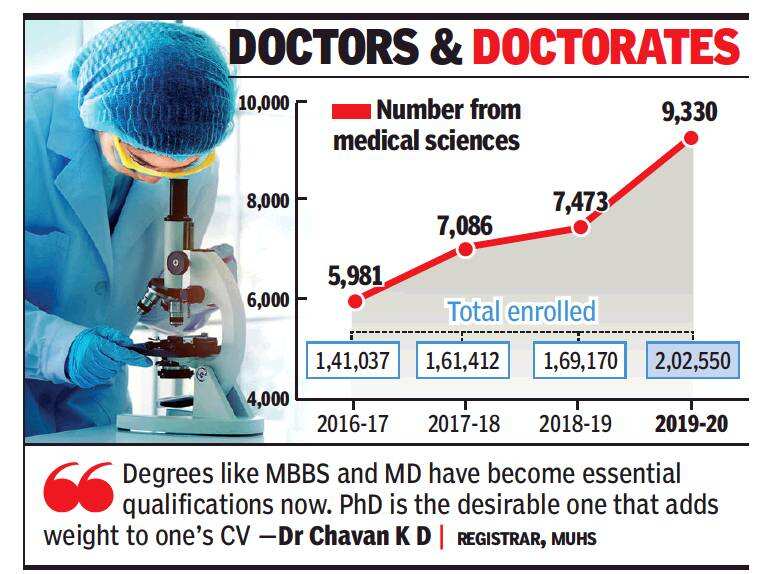 For 2019-20, the 9,330 medical postgraduates are enrolled in 48 sub-streams, with the highest number enrolled in pharmacy at 3,536. Ayurveda has 361 and dentistry, 507. At the PhD level, only 153 students are from the general medicine stream while 665 are from nursing.
"Double doctors", the elite group of medical professionals who can boast of the dual MD-PhD title, are not uncommon in the West. In India, where research, especially funding, is scarce, dual degrees in health sciences are fewer. But the AISHE numbers suggest the trend could be changing.
Maharashtra University for Health Sciences (MUHS) registrar Dr Chavan K D says there is an aspirational angle to the rise in those pursuing "medical PhDs". "Degrees like MBBS and MD have become essential qualifications now. PhD is the desirable one that adds weight to one's CV," said Chavan.
He said the MUHS promotes research and is taking a cue from states such as Karnataka to introduce the DSc (Doctor of Science) programme. "We noticed an upward trend in DSc numbers in Karnataka, so we are planning to start it in MUHS too," he said.
A senior medical teacher from the city said there are indications that some health universities such as the Homi Bhabha National University and the St John's National Academy of Health Sciences are considering introducing the MD-PhD dual degree track in the coming years.
Dr M K Ramesh, president of the Postgraduate Medical Education Board of the National Medical Commission, says the rise in medical PhD aspirants is a function of the overall interest in PhD. "Most universities offer PhD which was not the case earlier," he said, adding that the easy availability of guides to mentor students and the introduction of part-time PhD are "huge hits".
There is one more reason for the doctor-doctor pursuit. On July 10, senior teacher Dr S P Kalantri from Mahatma Gandhi Institute of Medical Sciences in Wardha tweeted: "Almost everyone–hundreds of medical teachers–in a medical school is currently busy acquiring a PhD tag after MD. Willy-nilly. They have to. There is no option. This helps the medical school score brownie points when they apply for NAAC accreditations. PhD or perish."
Dr Kalantri said the presence of teachers with PhD helps institutes get "more publications", "better NAAC ranking" and "status" to draw more students.
Medical doctors from para-clinical subjects like biochemistry, pharmacology, physiology, anatomy and pathology are the most likely to take up PhD, said Dr Sudarshan Ballal, pro-chancellor, Manipal Academy of Higher Education.
The only reason there are only 268 neurologists, 204 cardiologists and 129 urologists who enrolled for a PhD in 2019-20 is the vast demand for their services from patients.
"Clinical work takes precedence over research in India. It is, hence, not common for doctors to enrol for a PhD programme, especially in clinical fields," Dr Ballal said.